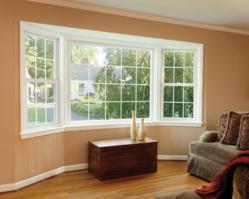 Columbus, Ohio (PRWEB) April 09, 2013
According to the 2012 National Association of Home Builders™ (NAHB®) "What Home Buyers Really Want" study, energy efficiency is the prime consideration for consumers when purchasing windows. The nationwide survey shows that ENERGY STAR® rated windows (89 percent of respondents), triple-pane insulating glass windows (69 percent of respondents) and Low-E insulating glass windows (67 percent of respondents) are the three top "essential/must have" and "desirable" types of windows identified by surveyed new and potential home buyers.
"This study illustrates the steady growth of energy efficient windows over the past several years with consumers," says Gary Pember, vice president of marketing for Simonton Windows. "As we look at these results we see that our company has been perfectly in tune with consumer demand. We focus on manufacturing energy efficient vinyl home windows and giving consumers a variety of insulating glass package options that can help reduce overall energy costs for their homes."
ENERGY STAR Preference
According to the survey, ENERGY STAR rated windows received twice as many "essential or must have" responses as any other window characteristics. And, as home buyers age, their desire for ENERGY STAR qualified windows increases. Eighty percent of home buyers under the age of 35 rate ENERGY STAR windows as "essential or must have," compared with more than 90 percent for buyers aged 55 and older.
In another survey finding that illustrates the growing importance of energy efficiency with home buyers, 89 percent of respondents said they would prefer "a highly energy efficient home with lower utility bills over the life of the home" versus just 11 percent who said they would choose a home without energy efficiency features that costs two to three percent less. This preference toward low utility costs reflects a realistic look at the rising costs of energy and home buyer's desires to address this issue at the initial time of purchasing a home.
"Overall, the government's ENERGY STAR program has made significant advances in educating consumers on energy values and savings since it started in 1992," says Pember. "From appliances to computers to windows, the public truly understands the importance and value of ENERGY STAR ratings. And now, with the federal tax credit act in place that offers homeowners savings when they install ENERGY STAR qualified windows and doors through the end of 2013, there's even more incentive for homeowners to request these energy efficient products for the home."
Vinyl Windows Preferred
Survey results from the study also show that vinyl framed windows are the leading preference (by 37 percent of respondents) for the type of windows that respondents find essential or desirable in their homes. Just 29 percent of respondents indicated a preference for clad wood or wood windows, followed by 28 percent stating a preference for fiberglass window frames and 21 percent desiring aluminum frames.
"This study confirms that homeowners understand and appreciate the low maintenance and energy efficiency aspect of vinyl home windows," says Pember. "They're also maintaining a strong interest in ENERGY STAR rated windows as a 'most wanted feature' in their homes.
"In this same study in 2007 there were 88 percent of respondents rating ENERGY STAR rated windows as essential or desirable. Now, five years later in the 2012 study, that number has increased to 89 percent. This makes vinyl windows the seventh most wanted feature in the home by participants in this study."
Online Resources
Simonton Windows offers information about its ENERGY STAR qualified vinyl windows at http://www.simonton.com/energystar. The company also offers information about the federal energy tax credit for its ENERGY STAR qualified energy efficient windows at http://www.simonton.com/energytaxcredit. More information is available at http://www.energystar.gov.
###
About Simonton Windows
Simonton Windows produces ENERGY STAR® qualified replacement and new construction windows and doors, including a line of impact-resistant products. Simonton has been ranked "Highest in Customer Satisfaction with Windows and Doors, Three Years in a Row" by J.D. Power and Associates. Simonton was also ranked #1 in quality in the 2013, 2009, 2007, 2002 and 1998 Brand Use Studies sponsored by Builder magazine and has won three Best In Class Awards administered by LBM Journal Research Institute.
Founded in 1946, Simonton's hallmark has been to deliver the industry's shortest, most dependable lead-times. Part of Fortune Brands Home & Security (NYSE: FBHS), Simonton delivers award-recognized products to key markets throughout the 48 continental United States and North America. Simonton is a Founding Sponsor of The Weather Museum, a Lifetime Founding Sponsor of the Lead Safe America Foundation, and a supporter of Homes for Our Troops. For information, call (800) SIMONTON (1-800-746-6686) or visit http://www.simonton.com.
###
Simonton Windows received the highest numerical score among window and door manufacturers in the proprietary J.D. Power and Associates 2010-2012 Windows and Patio Doors Satisfaction StudiesSM. 2012 study based on responses from 2,519 consumers measuring 11 brands and measures opinions of consumers who purchased new windows or patio doors in the previous 12 months. Proprietary study results are based on experiences and perceptions of consumers surveyed in January – February 2012. Your experiences may vary. Visit jdpower.com.
ENERGY STAR is a government program that helps consumers protect the environment through superior energy efficiency and is a registered trademark of the U.S. Department of Energy and the U.S. Environmental Protection Agency.
What Home Buyers Really Want is a copyrighted work owned by the National Association of Home Builders of the United States ("NAHB"). "National Association of Home Builders," "NAHB," "BuilderBooks," and the "NAHB" logo are registered trademarks of the National Association of Home Builders of the United States.