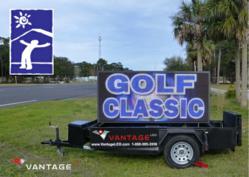 "Our demo trailers can help bridge that [affordability] gap and allow [a charity's] outdoor presence to be as bright and vibrant as their cause." Paul Martin, Vantage LED
Fort Walton Beach, FL (PRWEB) April 10, 2013
The 7th annual Children's Neighborhood Charity Golf Classic was held earlier this month at the Ft. Waldon Beach Golf Club. The event supports the efforts of Children in Crisis, Inc to provide care for abused and neglected children in the foster care system. The tournament was a success with a solid turnout of participants and sponsors. Vantage LED was at the event in collaboration with Complete Signs, providing a full color mobile LED display to help communicate to the attendees, and advertise the event.
Established in 2003, Children in Crisis, Inc "...raises and manages the funds to build, staff, and operate The Childrens Neighborhood, a residential style foster care neighborhood". The neighborhood is a group of foster homes, resource centers and other areas that promote a healthy and caring environment for foster children. They currently serve over 100 children per year, and recently added new facilities including, a recreation center, playgrounds, and the Opportunity House: a home for Teens who are transitioning out of the foster care system. The organization hosts a variety of fundraising events each year including live concerts, additional golf tournaments, and other events like "Dancing With Desire" (this June) featuring entertainment by "Dancing with the Stars" celebrities.
"It was a privilege to offer our demo display to assist the Children in Crisis charity." said James Anderson, Vantage LED Regional Sales Rep. "We appreciate the fine work they do to help children in need, and are excited to offer our support in any way we can."
Vantage LED is a California based manufacturer of LED signs with a growing network of dealers across the U.S and Canada. Their products feature a unique approach to the industry like the Dragon Skin™ protective coating, and their recent partnership with Spectacular Media to provide a cloud based content creation and sign management service called SM Infinity™.
Vantage announced in January that key sales representatives throughout the U.S. would be supplied with trailer mounted LED demo displays. This was done on the condition that the displays also be used to promote community and charity events.
"We didn't want these trailers to be used strictly for sales demonstrations." said Paul Martin, Director a Marketing, "They can really help event organizers to get the word out, and give the project an extra boost. Each representative is required to seek out events for the sign to be used each month."
The trailers are all equipped with Spectacular Media's SM Infinity™ internet based content and sign management service. This allowed the Vantage LED sales reps to request custom content to be created by the SM Infinity™ designers specifically for the event, helping to guarantee crystal clear messages that are dynamic and colorful.
"That's one of the nice things about these demo trailers." said Anderson, "We can request custom content from the professionals making the signs look as good possible for any event."
Vantage teamed up with Alabama based Complete Signs for the event, a sign company with a national presence and a vested interest in supporting local causes.
"We're not your normal sign shop." said Justin Holland, VP of Sales, "We provide signage all across the country and take pride in supporting our customers and their local community, wherever that may be."
Established in 1999, Complete Signs supplies a wide variety of signage to customers on a national scale. With a national service network, they can offer nation wide solutions for customers, including permitting, installation, LED signs, custom signage and brand development.
"We do what we say we are going to do." said Holland, "We stay on top of things and take care of the customer at all times."
According to Holland, they were notified of the event through a friend of a friend, and jumped at the chance to donate time and money to the cause, sending two representatives to meet up with the Vantage LED mobile team who also participated in the tournament.
"It went great, we had a ton of people mention the sign." said Holland
Vantage LED and Complete Signs both reported their desire to work with the organization on many more events as well as other community or charity based events in the area.
"LED signs are the future of outdoor communication, but can still be cost prohibitive to smaller non-profit or community organizations" explained Mr. Martin, "Our demo trailers can help bridge that gap and allow their outdoor presence to be as bright and vibrant as their cause."