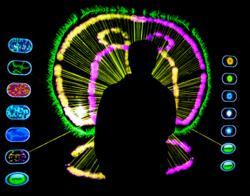 Santa Fe, NM (PRWEB) April 09, 2013
Santa Fe University of Art and Design (SFUAD) will present the third annual Outdoor Vision Fest (OVF) on Friday, April 26, from 8:45 to 10:45 p.m. Colorful, interactive media by SFUAD student graphic designers, animators, filmmakers, photographers, studio artists, and interactive multimedia artists will be projected at night onto the walls and columns of the late Ricardo Legorreta's internationally acclaimed Visual Arts Center. New this year, an electroacoustic music concert will accompany some of the media projections, and food vendors will be on site. OVF 2013 is self-guided and free and open to the public.
"Outdoor Vision Fest knocks down the increasingly outmoded barriers and boundaries that have traditionally separated artistic disciplines," says Terry Borst, an OVF organizer and professor in the Film School. "The twenty-first-century artist thinks less about tools and more about creating unique, immersive experiences that change—however briefly—the receiver's perceptions and worldview."
OVF 2013 will feature new, original content; more installations than in previous years; and increased interaction between viewers and installations. As the scale of OVF grows, so does its scope: Several hundred people attended the event's debut in 2011, and in 2012, OVF drew more than 1,000 guests.
OVF was created to enable students to interact with each other and with new media technologies while publicly showcasing their work in an innovative way. Three SFUAD classes are involved in creating content for OVF this year, but nearly all departments are represented in some way, and students also create content independently outside of class. For instance, students from the Contemporary Music Department and Film School are collaborating to create media that will complement an electroacoustic music concert in front of Mouton Hall. The concert will feature original music by students, as well as guest artists OctaveEleven from Santa Fe and Crttrz from Albuquerque.
As Dae In Chung, chair of the Digital Arts Department, puts it, "Outdoor Vision Fest explores the interactions of art and technology. The variety of installations from many departments shows the passion and engagement of our students."
Recently, the design website and blog Frontier sponsored an international competition called "8-BIT" for the best video "inspired by 8-bit pixel art aesthetics." All contest winners will exhibit their work in OVF and in other locations around Santa Fe during the year, including the opening and closing nights of the new media exhibition currents 2013. The first-place winner, announced on March 30, is Gustavo Collazos from Cali, Colombia, who won for his entry titled "Tension." Not only will his film be showcased during OVF—he will also be flown to Santa Fe in the summer for ArtFest13 at SFUAD. The runner-ups, Tyrone Urquhart from New Zealand with the entry "Super Slopestyle Challenge" and Haley Grant from the United States with "The Joust," will each receive a pocket-sized projector.
For more information about OVF, see its Facebook page and videos on the Vimeo channel.
About Santa Fe University of Art and Design:
Santa Fe University of Art and Design is an accredited institution located in Santa Fe, New Mexico, one of the world's leading centers for art and design. The university offers degrees in arts management, contemporary music, creative writing, digital arts, film, graphic design, performing arts, photography and studio art. Faculty members are practicing artists who teach students in small groups, following a unique interdisciplinary curriculum that combines hands-on experience with core theory and prepares graduates to become well-rounded, creative, problem-solving professionals. As a Laureate International Universities Center of Excellence in Art, Architecture and Design, the university boasts an international student body and opportunities to study abroad, encouraging students to develop a global perspective on the arts. Santa Fe University of Art and Design is accredited by The Higher Learning Commission and a member of the North Central Association, http://www.ncahlc.org.