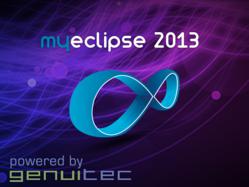 The HTML5-based Mobile Tools in MyEclipse 2013 make it simple to get started on your next project...
Dallas, TX (PRWEB) April 09, 2013
Genuitec, LLC, a founding member of the Eclipse Foundation along with IBM, is thrilled to unveil the addition of Mobile Tools in MyEclipse 2013. Customers now have the ability to create the next generation of applications, allowing you to code once and deploy anywhere. Customers can send projects, new and legacy anywhere over the cloud, empowering enterprise Java and Web developers to go-mobile without the setback of learning new coding languages.
"The HTML5-based Mobile Tools in MyEclipse 2013 make it simple to get started on your next project, or take what you've already coded, layout a new UI with the HTML5 Visual Designer and tie into the backend to make a older projects mobile accessible," said Wayne Parrott, vice president of product development at Genuitec.
The new Mobile Tools in MyEclipse 2013 will provide developers with cross-platform Mobile Tools designed on the popular Cordova/PhoneGap platform container. MyEclipse 2013 with Mobile Tools puts the power of HTML5, JQuery templates, and other popular Javascript libraries in the hands of the developer allowing them to master code and mobile development with a single code base.
The new capabilities of Mobile Tools allows customers to use HTML5 to add audio, video, and API elements to projects to create complex web applications for mobile devices (Android, iOS) and across Linux, Mac and PC desktops. With the inclusion of JQuery, developers will also be able to enhance projects via plug-ins and add animations to their designs.
Mobile Tools features an HTML5 Visual Designer that allows developers to utilize one-click technology to design once with a single code base and configure apps for both Android and iOS platforms. The HTML5 Visual Designer features two modes; A Design Mode which shows the design in code as you develop, and then a Preview Mode which shows how the code will render in a web browser.
In addition, Mobile Tools will utilize an App Center Builder, which is a cloud service that packages HTML5 app content with a Cordova runtime. The App Center Builder provides developers with several wizards to walk them through the build process in entirety, ensuring a smooth yet fast development experience. Upon completion of a build process, the resulting app is distributed for installation and testing on devices. The App Center Builder provides a URL link specific to the created app and connects with the end-user device's installation process.
In addition to these features, Mobile Tools will also provide customers with several Application Templates, allow for the assignment of developer roles and provide for the seamless integration of the MyEclipse IDE, allowing developers to expand on the capabilities of their projects.
Subscriptions to MyEclipse, MyEclipse Pro and Blue Editions are available annually for about US $30, $60 and $160 respectively. MyEclipse Pro Secure edition is $99.99, while the MyEclipse Blue Secure Edition is $249.95.
MyEclipse 2013 is available at: http://www.myeclipseide.com, while MyEclipse 2013 Blue Edition is available at http://www.myeclipseide.com/blue All editions come with a free 30-day trial. Free trial users and those with current subscriptions receive all updates at no cost; enhanced service agreements are now available and vary in cost.
About Genuitec
With year-over-year growth since the company was founded in 1997, Genuitec continues to expand by offering superior products to enterprises at value-driven prices. Its products are used by 17,000 global enterprises including 80 percent of Fortune 500 companies. Genuitec's support forums are a vibrant community where users engage with staff to answer any number of technical needs. Genuitec is constantly evaluating market opportunities for new areas of growth, and has launched a new product in each of the last 4 years. As a fully-distributed work force, the company maintains a low overhead, yet attracts the most talented software developers with its flexible employment options.
Genuitec is based in Flower Mound, Texas and is founding member of the Eclipse Foundation along with IBM, Intel and HP.
Please follow Genuitec's latest news by joining "MyEclipse" on Facebook and on Twitter @MyEclipseIDE and @Genuitec