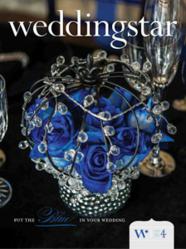 Dunmore, Alberta (PRWEB) April 10, 2013
Weddingstar Inc. has been renowned for 'Putting the Wow in Weddings' for the 30 years they've been in business. With the release of the fourth installment in their Wedding Style Lookbook series, entitled The Blue Color Story, they put a spin on the classic wedding rhyme "Something old, something new, something borrowed, something blue."
Featuring looks versatile enough for a wedding in any season, the Blue Color Story Lookbook gives brides endless options to ensure their good fortune with "something blue." Shot in a series to highlight each of three separate looks, Weddingstar's newest lookbook is made to explore and inspire. With tips for recreating the designs featured within woven amongst photographic inspiration, The Blue Color Story Lookbook shows how to make a complete wedding design statement in blue.
In the first section, Royal Blue, regality reigns supreme as black accents shine alongside deep blue tones and crowns are nestled amongst gems in a look suited for the modern day princess. In Nautical Shimmer, a seafaring adventure is captured amongst starfish and ocean blue tints as land gets left behind. Finally, in Something Borrowed, a cozy homespun theme ties the décor together with playful DIY touches.
With the magazine like style of each lookbook's design, Weddingstar creates a fun and exciting shopping atmosphere where wedding inspiration and design techniques are just as prominent as their wedding accessories. Empowered to bring bride's top quality products and inspiration, Weddingstar's unique take on shopping is what sets them apart.
Weddingstar Inc. is one of the world's leading designers, manufactures and retailers of wedding favors and accessories. Dedicated to providing quality service to brides around the globe, Weddingstar features an ever-expanding selection of bridal accessories with over 3,000 different product offerings. With 30 years of experience in the wedding industry, and having received numerous business awards, Weddingstar has earned a reputation as the source for 'Putting the Wow into Weddings.' For more information please visit http://www.weddingstar.com.