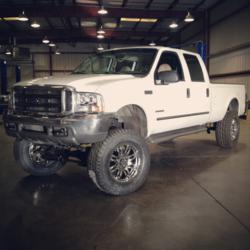 Morgan Hill, CA (PRWEB) April 08, 2013
The garage at Andy's Auto Sport seems to be a site of constant activity. With a varied collection of cars to choose from, the guys at Andy's always have some sort of project to work on. Last week, a 1985 Audi 4000S was turned into a racing car. The week before, a stealth-black 2013 Camaro had a remote-mounted twin-turbo kit installed. This week, the emphasis in the garage has moved away from speed and towards style.
While the guys at Andy's Auto Sport love going as quickly as possible, they're not without their stylish attachments, either. They figure that looking good is just as important as going really, really fast. So, Andy's Auto Sport went ahead and fitted their project Ford F250 with a Fabtech 8" lift kit. The 2-day installation process was arduous but rewarding, as the F250 now riding higher and prouder than before.
While the kit has a dramatic effect on the aesthetics of the car, the real beauty of this lift kit is its simplicity and practicality. It takes all the guess work out of raising a truck, and all the necessary parts are supplied ready to fit. When raising a truck, many of the suspension and steering components are no longer in proper alignment, or they are too short to connect to their mounting points. The proper location of these components is essential for safety and predictable handling, and the kit has all those compromises accounted for. The steering system's change in location is compensated for with modified panhard bar mounts, Pittman arm, and drag-link drop-mount. Modifications to the suspension system include replacement leaf springs with a stronger arch in the front, additional leaf springs for the rear with a 4.5" raising block, and sway bar links. The result is a truck that steers and rides just as well as it did when stock. The increased spring rate and added Dirtwork Shocks have virtually no negative effect on the ride quality – the guys at Andy's describe it as "slightly firmer, but not unruly".
The guys at Andy's remarked on the installation process being quite simple. The instructions were well laid-out and easy to make sense of, and absolutely nothing needed any adjustment after the fact: all the parts fit perfectly. According to the mechanic himself, the installation process would take one savvy guy without a lift roughly 10-12 hours and two guys with a lift somewhere in the 6-7 hour range.
For those who want the best handling a lifted truck can provide, Fabtech offers a coilover conversion kit which adds a certain degree of cornering precision one doesn't usually experience in a truck, let alone one that's lifted nearly a foot higher. When the guys at Andy's speak of adding these coilovers to his F250, there's a noticeable glint in their eyes. Perhaps they've got some plans for the near future.
For more information, visit AndysAutoSport.com, AndysAutoSportTV.com, or YouTube.com/AndysAutoSportTV.
Andy's Auto Sport is an online retailer and wholesaler of OEM and aftermarket automotive parts and accessories, and is the largest retailer of aftermarket body kits in the world, with more than 2 million unique online visitors per month. The company serves customers worldwide and has been featured in magazines such as Import Tuner, Modified, Low Rider, Truckin', as well as on television shows such as Pimp My Ride, Street Fury, Trucks!, and Two Guys Garage.