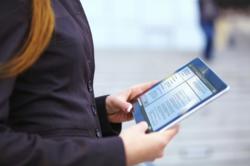 (PRWEB) April 09, 2013
iCompass Technologies is excited to announce upgrades to AgendaNotes iPad that make it the most reliable paperless agenda application for elected officials in North America. iCompass launched AgendaNotes iPad less than a year ago, but already over 750 elected officials are using the app from 122 different organizations. These upgrades have been implemented seamlessly as iCompass users continue to conduct meetings on a daily basis.
AgendaNotes iPad is designed for iCompass' Meeting Management Solution and Agenda SE. It allows elected officials to organize, annotate and mark-up agendas on the go. As a result, elected officials are better prepared for meetings and no longer have to deal with 200+ page agendas.
"The number one need for elected officials is reliability. There isn't an app on the market that is more stable and more secure than AgendaNotes iPad," says iCompass VP of Customer Success and Operations Paul Blanchet. "We hear horror stories from converted customers who have used apps from other vendors and dealt with crashes and bugs constantly. With AgendaNotes iPad it's not even part of the conversation."
The upgrades ensure, that unlike other agenda applications, AgendaNotes iPad will be working all the time, not most of the time. It's reliable, even more user friendly and if help is required, iCompass' industry-leading Customer Success Team is waiting to answer questions 24 hours a day, 7 days a week in person in 10 minutes or less.
"The major reason why AgendaNotes iPad has been so popular is that elected officials trust the product. With these upgrades we've lengthened the gap between AgendaNotes iPad and what our competitors offer," explains iCompass VP of Sales and Marketing Scott Neufeld. "I'm proud of the product we've produced."
About iCompass Technologies
Located in Kamloops, British Columbia, and currently partnering with over 400 organizations across North America, iCompass Technologies continues to develop solutions that promote strong, efficient and open municipal governments and academic institutions. Over the last 14 years iCompass has established itself as the North American leader for cloud-based, paperless solutions that streamline meeting, records and content management. Woven into this framework are a number of tools that enable governments to become truly open and transparent.
When you put together all of these different elements you get governance that surpasses the needs of everyone in a community – staff, elected officials and the public. That's what we strive for, a stronger community, with the solutions in place so that governments can offer services in a manner that's more cost effective and more efficient than ever before.
The iCompass Grand Slam Commitment
What's unique about iCompass is the true partnership we create with municipalities, school districts and post secondary institutions across North America. When organizations sign up with iCompass, our staff signs a contract too. We strive to have new municipalities up and running in a matter of weeks via our MAX 20 Hour Training Program. We address customer needs in 10 minutes or less recognizing the solutions we provide are vital to the operation of any government. No IT involvement or additional investment is required with our all-inclusive pricing model. Quite simply, iCompass is there for you every step of the way.