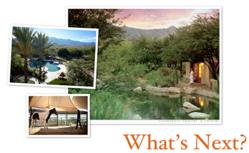 Join us if you are ready to say hello to the fullest potential for yourself and your business
Portland, Oregon (PRWEB) April 10, 2013
Victoria Trabosh, executive coach, author and international speaker is partnering with Pat Johnson, brand strategist and visionary entrepreneur to offer What's Next?, a week-long leadership retreat for personal and business success September 29-October 5, 2013 at Miraval Resort in Tucson, Arizona.
Combining a unique retreat opportunity for both self-discovery and business strategy, What's Next? is for entrepreneurs and key executives ready to take their personal and business success to the next level including those contemplating a business plan.
Participants will clarify their purpose, sharpen their personal or business brand, align both into their business plan, learn leadership tools to build a mission-driven culture and create metrics for business success and life/work balance.
"At the end of the day, business is truly personal – and if one aspect of your life isn't reaching its fullest potential, you might want to explore the other, says Johnson, "Join us if you're ready to say goodbye to the monochrome, the comfortable, the incremental – and ready to say hello to the fullest potential for yourself and your business."
The What's Next? Leadership Retreat will be at the all-inclusive Miraval Resort in Tucson, Arizona and includes five nights of luxury accommodations, transfers to and from the airport; breakfast, lunch and dinner daily, group sessions with Executive Coach Victoria Trabosh and Business Strategist/Entrepreneur Pat Johnson, private coaching and strategy sessions, full access to resort amenities and facilities including yoga, meditation, hiking, biking, outdoor adventures, golf, tennis, health & wellness workshops and activities. For registration and deposit information, visit http://whatsnextretreats.co/index2.html or contact Vicky(at)victoriatrabosh(dot)com
About Victoria Trabosh
With over 35 years of experience in effectively leading a range of companies and teams, combined with specialized training and certification as a leadership coach, Victoria Trabosh leveraged her career and life experience over the past decade as an executive coach, international speaker, author and columnist.
Working with senior company executives and business owner clients who are committed to reaching an even higher level of success is her most satisfying and fulfilling work.
"Vicky is more than a coach; she is my trusted advisor, a catalyst, change agent and friend," according to a long-time CEO/Client. Victoria brings to coaching an unquenchable desire to see people become their personal best, a background broad in experiences, and a focus and energy enabling people to reach their greatest goals and dreams. victoriatrabosh.com
About Pat Johnson
Pat Johnson has spent the last 25 years working with some of the best brands in the business, as founder and CEO of the nationally-acclaimed creative ad agency NORTH.
Never satisfied with simply shaping a brand's message, Pat is often willing to ask the uncomfortable questions in an effort to deconstruct and reinvent the way a brand delivers on its promise. Her consulting company, Ammonista, conspires with senior leadership to excavate the most meaning out of their brand and most importantly, build the delivery system (products and customer experience) to realize it in an authentic, sustainable and profitable way. For two decades, her entrepreneurial instincts drove innovation for her clients until she took the leap to work with start-ups (including her own) and build meaningful brands from the inside out.
Pat currently works with global companies and entrepreneurs to sharpen their brand strategies and eliminate the gaps between their realities and aspirations. Her purest sense of purpose is to help fellow visionaries realize the essence and potential of their ideas. ammonista.com