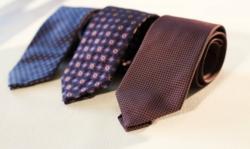 MONTREAL, QUEBEC (PRWEB) April 09, 2013
LuxeInACity, a luxury lifestyle magazine that curates boutique luxury brands from Beijing to Rome by way of Abu Dhabi, and Crunaties, an Italian Sartorial brand specialized in customizing elegant ties, are inviting fans to socialize with them for a chance to win up to three 'Seven fold ties with hand-embroidered initials'.
To participate in this exclusive giveaway, fans are invited to interact with both LuxeInACity and Crunaties using Facebook, Twitter and Pinterest directly from a widget embedded on LuxeInACity's luxury blog. Each social interaction will give fans a specific amount of entry points into the giveaway. For example, one fan may choose to follow @luxeinacity, Like Crunaties and pin an image on Pinterest for 11 points, another may opt to Like and follow on Twitter both LuxeInACity and Crunaties for a combined 16 entry points. The more socially active fans get, the more chance they have to win one or more luxury ties.
About the prize: Valued at US$160, each one of these 'seven fold Italian ties with hand-embroidered initials' is exclusively sartorial in its creation as it derives from the best mastery of Crunaties handcrafted factory. The fabric has been patiently worked exclusively by hand, needle, thread and with a lot of passion.
"Cruna Ties is an idea, based on a dream but also on business rules considered crazy and unconventional, especially nowadays. We wanted to give prestige to a historic sartorial production of fine Italian ties of our territory, respecting those traditional." - Crunaties
Considered to be the Queen of Ties, the seven fold comes from a single great square slit of fabric of over 70 cm. Hand-crafted by a skillfull tailor who as mastered the traditional art of folding the fabric, these luxury Italian ties are a symbol of refinement and elegance.
To learn more about the art of sartorial ties or to cuztomize your own ties by selecting the perfect color, pattern, fabric, model, lining, size and initials, visit http://www.crunaties.com.
To participate or share this exclusive giveaway, visit http://www.luxeinacity.com/blog/win-one-of-three-ties-by-crunaties-then-choose-its-style/.
The Crunaties giveaway will run from April 8th through April 15th at 12pm EST. A winner will be announced at random in the following week once we have confirmed their details. Participant may be located internationally but must be over 18 year old to participate.
About Crunaties
Crunaties is an Italian sartorial brand that allows the unique customization of hand-crafted ties by selecting the perfect color, pattern, fabric, model, lining, size and by customizing with one's initials. To create the perfect Italian tie, visit http://www.crunaties.com.
About LuxeInACity
LuxeInACity aims to curate the world, one boutique luxury brand at a time. Offering daily insights on the world of luxury through several media channels, LuxeInACity connects luxury consumers & travelers with the luxury brands they love through an engaging web platform.
To browse our curated world of luxury, visit http://www.luxeinacity.com