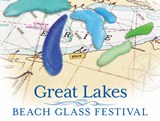 With just over two months until the event date, dozens of volunteers are helping to coordinate all of the details for two very full days
Erie, PA (PRWEB) April 09, 2013
Attendees of the upcoming Great Lakes Sea Glass & Coastal Arts Festival will have an opportunity to join thousands of beach glass enthusiasts for a weekend event that includes jewelry and arts made by vendors from all around the globe, a beach glass contest with cash prizes, wine, food, live music, and lectures from local and regional experts.
The event, hosted by Relish Jewelers, will be held at Erie's 29,000 square foot Bayfront Convention Center from 10 a.m. to 7 p.m. Saturday, May 25 and 10 a.m. to 5 p.m. Sunday, May 26 p.m. Tickets are $5 for both days and children 12 and under are free.
"This festival is going to be so much fun," said Terri Reed, co-owner of Relish Jewelers. "With just over two months until the event date, dozens of volunteers are helping to coordinate all of the details for two very full days. Attendees can expect to have an amazing – and affordable – experience."
Attendees can sample wine from North East, Pa.'s Courtyard Winery, who will be exhibiting and selling its private-labeled Beach Glass Red and Beach Glass White wines. Erie's own Salmon Frank Band will provide live music and attendees will have access to a collector's area, educational booths on ecology and environment, and a gift basket raffle from local businesses.
In honor of Memorial Day, a portion of the festival's proceeds will go directly to a local Veteran's organization. Another portion will go to The Pennsylvania Sea Grant, a national network that conducts scientific research, education and training about conservation of aquatic resources.
Overflow parking will be available at the Burger King Amphitheater at Liberty Park and free shuttles will transport attendees to the convention center. Erie's Perry 200 Parade is also slated for Memorial Day Weekend, and attendees heading up for the beach glass festival can check it out from 1 to 4 p.m. Saturday in downtown Erie.
A list of current vendors, schedule of lectures, and hotel information can be found on the event page. Sponsorship opportunities for this event are still available. For more information, contact Terri Reed or Jennifer Reed by phone at 814-836-1827.