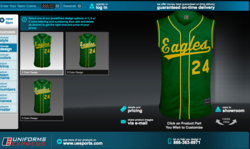 San Diego, CA (PRWEB) April 09, 2013
The portal simplifies the process for all sports team managers and coaches who are looking to design their custom team uniforms.
Founded in 1996 by coaches and ex-professional players, Uniforms Express is a manufacturer and seller of custom team sports uniforms worldwide. For over sixteen years they have made the logistics of designing, ordering, and receiving brand new custom team uniforms as simple as can be.
In 2013, Uniforms Express is further simplifying the process of purchasing brand new custom team jerseys and pants with their updated team uniform builder application. This application allows visitors to jump right into the design of a new baseball, football, basketball, or softball uniform. Additionally, the uniform builder utilizes the latest web technology, which allows it to be used on almost any device, including Smartphones and tablets.
Customers simply enter their team name, select team colors, and then pick from a multitude of different jersey and pant styles. Jersey styles range dramatically by sport and include cutoff sleeves, short sleeves, long sleeves, buttons and no buttons, v-necks or collard necks, and much more.
The goal of the custom team uniform builder portal is to allow team managers, coaches and players the opportunity to have complete control over the design of their team uniforms. "As a uniform manufacturer we have the ability to provide teams with a completely custom uniform to fit their needs. We wanted to develop a product that put this unique level of customization directly in the hands of coaches and team managers." Said, Jennifer Walton, president of Uniforms Express.
Having provided custom baseball uniforms for many major universities and professional sports teams including Stanford University and The University of Alabama, Uniforms Express is ready for another exciting year and is once again revolutionizing the way teams purchase uniforms.
About Uniforms Express
Uniforms Express is a custom team uniform manufacturer and seller servicing a variety of team sports. They guarantee on-time delivery and have been known to delivery uniforms in as little as one week's time. For more information or to try out their custom uniform builder, please visit their website at: http://www.uesports.com or give them a call at: 888-661-7044.
###