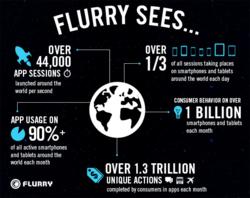 Flurry is on a mission to significantly improve and simplify app advertising.
San Francisco, CA (PRWEB) April 09, 2013
Flurry, a leading app measurement and advertising platform, today announced the immediate availability of Flurry Marketplace, the app industry's first Real-time Bidding (RTB) Exchange, pre-bundled with app audience data. Demand-Side Platforms (DSPs) and Agency trading Desks (ATDs) now can programmatically reach their intended audiences without having to rely on third party audience data. Flurry audience data is assembled from more than 300,000 apps running across more than 1 billion mobile smartphones and tablets each month.
"Despite big data advances, app publishers continue to sell inventory undervalued and blind because programmatic buyers don't yet have a platform that overcomes publisher fragmentation and provides quality audience data in order to improve buying decisions," said Simon Khalaf, Flurry president and CEO. "Flurry Marketplace aggregates and enriches advertising inventory from thousands of applications with relevant, granular audience data that empowers DSPs, ATDs and networks to buy efficiently."
According to IDC, worldwide RTB advertising spending is forecasted to surpass $13 billion by 2016. Through RTB Exchanges, automated auction-style advertising impression marketplaces, programmatic buyers can set bids on ad impressions that will be shown to audiences who possess key attributes. As transactions clear, publishers that reach the advertiser's intended audience deliver those ad impressions. Through dynamic, efficient market forces, both advertisers and publishers transact at their respective optimal pricing, maximizing ROI for both parties.
With Flurry Marketplace, programmatic buyers can better evaluate bid requests with rich data provided by Flurry including age, gender, device, geography, application category, application and Flurry Personas, the app industry's clearest audience interest and intent signal. With a single point of integration, advertisers can connect to Flurry Marketplace to reach more than 300 million monthly unique users and bid on billions of ad requests per month. Advertisers can transact transparently by bidding on specific applications and application categories, as well as by filtering out where an ad should not run. Flurry is compliant with the OpenRTB standard, which ensures quick and easy integration.
Flurry Marketplace is part of Flurry AppSpot, a data-powered supply-side platform. In addition to direct ad serving and network mediation, Flurry Marketplace adds an RTB Exchange to offer the most comprehensive, data-powered monetization solution to publishers. Already adopted by thousands of publishers, Flurry Marketplace meaningfully increases the value of inventory by providing advertisers more audience insight when bidding on inventory, increasing demand pressure through market dynamics and increasing fill rates through a combination of market volume and backfill with Flurry's data-enriched ad network, Flurry AppCircle. Publishers may also set CPM price floors to protect the value of their inventory. Flurry Marketplace is fully integrated into AppSpot, requiring no new SDK for existing AppSpot customers. For existing Flurry Analytics customers, enabling Flurry AppSpot with Flurry Marketplace is just a few clicks away, once logged into flurry.com.
"Flurry is on a mission to significantly improve and simplify app advertising," said Rahul Bafna, head of product management for Flurry advertising solutions. "In the long-run, we believe that delivering big-data powered solutions such as Flurry Marketplace is the only way to ensure a win-win-win among advertisers, publishers and consumers."
Interested Programmatic Buyers and Publishers can connect with marketplace(at)flurry(dot)com and publishers(at)flurry(dot)com, respectively, for assistance.
About Flurry AppSpot
Flurry AppSpot helps app publishers earn more revenue from their mobile app audiences. Flurry AppSpot uses audience insight that Flurry Analytics gathers from 1 billion mobile devices per month to power advanced targeting and deliver more relevant advertising. Publishers using Flurry AppSpot also get full-featured ad network mediation, ad serving and RTB exchange impressions free of charge at any volume. Flurry AppSpot supports most ad formats and campaign pricing and delivery options.
About Flurry
Flurry helps companies measure, advertise and monetize apps and mobile websites in the new app economy. The company's comprehensive measurement and advertising platform reaches over 1 billion monthly unique smartphone and tablet devices across iOS, Android and other platforms. The company has offices in San Francisco, New York and London.