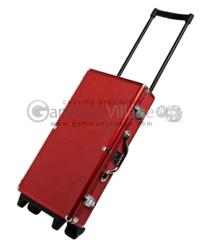 Cheektowaga, NY (PRWEB) April 09, 2013
GammonVillage, an award-winning producer of mahjong games and accessories, has launched a new line of beautifully-designed wheeled mahjong sets that include all the components needed for games on the go. The new White Swan® wheeled mahjong sets, which include tiles, modern pushers, and instruction booklets, are 5% off for a limited time at GammonVillage.com with the bonus code: ONLINE105. Sets range from $96.95 to $169.95, with free ground shipping to anywhere in the United States.
Designed by mahjong players under the famed White Swan label, the new line of mah jong sets with modern pushers includes both attache and luggage-style, light-weight aluminum rolling cases, with six vibrant colors to choose from including blue, red and silver. Rolling versions include sturdy telescopic handles, and a wide design and style that prevents tipping or instability during transport. Cases also feature extra-tough hinges and latches, corner protectors, and ergonomic handles - perfect for the serious mahjong player.
Unlike mass-produced mahjong sets, these White Swan® Mahjong sets with modern or classic pushers combine superior design and unparalleled attention to detail. Sets include silky-smooth, large, durable tiles in four different colors, with laser-accurate graphics in red, green and black. Thanks to deluxe craftsmanship and design, characters on the tiles are instantly identifiable, which is an added bonus for older players.
Inside each aluminum case and organized into foam compartments are tiles, instructions, dice, and all-in-one tile racks featuring modern pushers. With modern pusher arms built into the racks, the racks require no assembly and can be filled, emptied and used in seconds. Cases also include padded lids, so that components are protected whenever the case is being carried, wheeled around, or stored.
"With the growing popularity of mahjong in the United States, and the demand for quality craftsmanship from enthusiasts, we're thrilled to be the leading producer of top-notch, deluxe sets that are loved by even the most discerning players," says Mel Dragicevic, GammonVillage's chief designer. "With a design team that includes both players and advisors, we'll continue to pour our own love of the game into these beloved mahjong sets, both now and in the future."
Originating in China, Mahjong, a rummy-like game that uses tiles instead of cards, requires strategy, patience and luck to win games. Players engage in banter of discards, draws, steals and passes, to gain the most tiles and win the game. While most people can pick up the basic rules of mahjong in a day, understanding the nuances of a game that has 40 variations can take a lifetime. Mahjong remains the most popular game in Asia today, but it has exploded in popularity in the U.S. The National Mah Jongg League estimates that half a million people play mahjong in the U.S.A alone.
GammonVillage.com carries a wide range of American Mahjong sets as well as Asian versions, travel sets and jumbo-size tiles. On their website, mahjong players buy and replace components, or upgrade their sets to enhance game play. In the site's accessory section alone, you'll find classic and modern pusher arms, league cards, chips, instructional books, DVDs, tile racks, dice, and much more. Visit http://www.gammonvillage.com or call (866) 260-2058 for more info.
About GammonVillage.com
Since December 1999, more than 100,000 classic game enthusiasts have flocked to GammonVillage, the Internet's largest and most respected classic board games store. Dedicated to providing the ultimate online experience, GammonVillage offers top quality backgammon, chess, mah Jongg, dominoes and other classic game products. For more information about the White Swan® Mahjong Sets or to purchase a gift certificate, visit GammonVillage.com or call (866) 260-2058.