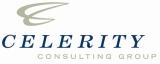 The addition of Kris Taylor to the Celerity team gives us a formidable increase in expertise
San Francisco, CA (PRWEB) April 09, 2013
Celerity Consulting Group ("Celerity"), an information management firm specializing in litigation, risk and compliance, and restructuring services and solutions, is pleased to announce that Kris Taylor has joined the firm as Vice-President of Sales.
Kris Taylor joins Celerity with over 16 years of experience consulting and managing clients and large-scale projects through all aspects of the document discovery life cycle with respect to litigation and regulatory inquiries including business development, litigation consulting, forensic collection, processing and document review.
In his new capacity, Kris will assume responsibility for the company's overall sales function. Kris's main focus will be to maximize eDiscovery sales while furthering Celerity's client service performance through the development of new technologies, best practices, and outstanding sales and operational talent. Kris will be based in Phoenix, AZ.
"The addition of Kris Taylor to the Celerity team gives us a formidable increase in expertise," said Chris Yowell, President of Celerity. "Kris is one of the most experienced professionals in the litigation support industry, playing a leading role in the utilization of technology solutions to manage complex litigation matters on a national and international scale."
Prior to joining Celerity, Kris was with Husbey, Inc. as Senior Vice- President. Before Husbey, Kris was with Epiq Systems as Senior Vice-President where he led eDiscovery sales and client services which resulted in a tremendous growth in revenue in 15 years' time. Kris was a shareholder of Encore Discovery Solutions which was sold to Epiq in 2011.
Celerity is also pleased to announce the opening of an office in Phoenix, Arizona, which is also the location of Celerity's new eDiscovery operations facility. This center greatly expands the company's processing and hosting capacity, and underscores the company's commitment to establishing Celerity as a leading, national provider of eDiscovery services.
About Celerity Consulting Group
Celerity Consulting Group is an information management consulting firm that helps companies, law firms, regulated entities, and agencies resolve their litigation, risk and compliance, or restructuring challenges. Our specific services include ediscovery and litigation support, records management, records collection, records review and validation, litigation readiness, litigation technology integration, document hosting, and business and engineering analysis. Find more information about Celerity at http://www.consultcelerity.com or contact Steffani Aranas at info(at)consultcelerity.com or (415) 986-8850