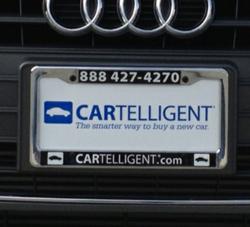 What many people do not understand is that the price disparity between new and slightly used cars has eroded in recent years.
SAUSALITO, Calif. (PRWEB) April 09, 2013
Cartelligent has released its analysis of the new vs. used car dilemma many car buyers face. The service, based in Sausalito, California and with branches in Danville, San Jose and Irvine helps thousands of people purchase cars each year across all manufacturers. Its team of professional car buyers has put together a guide to help consumers understand the true cost of car ownership and how it can affect the decision to buy a new or used vehicle.
You, or someone you know, may be weighing the decision between getting a new car or a used car. While certain budgets may necessitate the purchase of a used car (new car choices under $10,000 are practically non-existent), the difference in cost between a new car and a two to three year old used car is becoming negligible in many cases, and can favor buying or leasing a new car in some cases. The key is to consider the total cost of car ownership.
Given the choice between a new and used vehicle at the same total cost, most car buyers would prefer the new model. After all, with a new car you can choose the color and options you want, new safety and technology features have been added and you don't have to worry about whether or not the previous owner ran over too many potholes or neglected to keep up with its maintenance.
What many people do not understand is that the price disparity between new and slightly used cars has eroded in recent years. This is due to a number of factors which we will explore in more depth here.

Manufacturer Incentives: It's no secret that manufacturers motivate dealers and consumers with rebates, lease specials and other incentives designed to move new cars. Understanding these deals can help you narrow the cost gap between new and used models.
Financing: Used cars are generally financed at a higher interest rate than new cars. This means that a difference in purchase price may not correspond to an equal difference in monthly payments, or the total of these payments over the term of the loan.
Leasing: Leasing can be a fantastic way to decrease monthly payments on a new car and/or decrease the total cost of car ownership – especially if you like driving a newer model. Leasing also offers a significant saving on sales tax which is only applied to the amount of the lease rather than to the entire cost of the vehicle. Even if you are accustomed to keeping your car for a number of years, three 3-year leases can be similar amount to buying and holding onto one car for nine years with upkeep and depreciation – with the added enjoyment of driving a newer car.
Fuel Efficiency: While hybrids and electric vehicles offer savings at the pump, new gas and diesel models are fueling the efficiency revolution. The average fuel economy for passenger cars has risen to a high of 24.5 mpg in January 2013 from an average of 21.3 in 2009. With gas at over $4.00/gallon and long California commutes, this can add up to hundreds of dollars in savings each year.
Maintenance: New cars come with extensive warranties and can include standard maintenance at no additional cost for the first few years of ownership, even if you lease. Slightly used cars will be more likely to require a larger investment in maintenance during the first few years such as new tires and brake pad or belt replacement.
Residual Value: Perhaps the most overlooked source of value in comparing new and used cars is what the car will be worth when you're ready to sell it. A six year old car with 60,000 miles can be worth thousands less than a similarly equipped three year old car with 30,000 miles. If you're intending to keep your car for five years or less, residual value should be an important part of your decision.
We welcome inquiries about these tips or about car buying in general. To set up an interview with one of our experts, please contact Jessica Carstens at 415-339-4562 or email jcarstens(at)cartelligent(dot)com.
About Cartelligent: For over thirteen years, Cartelligent has connected car buyers with the new car they want, at the right price. Thousands of satisfied clients have saved time and money while avoiding the hassle of the traditional dealer experience by working with Cartelligent to help them enjoy the car buying experience like never before.