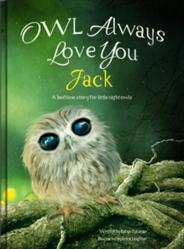 (PRWEB) April 22, 2013
Tell a child "whooooo" loves her with the latest title hatched from Flattenme.com. The latest in a line of popular personalized books offered on flattenme.com joins the top of the list of most wanted children's personalized gifts. The newest children's customized book is a whimsical tale called Owl Always Love You by New York Times Bestselling Author Robyn Spizman. Spizman, a well-known media personality has appeared often on national media including NBC's Today Show, CNN, and is a seasoned award-winning author of dozens of books. Flattenme.com celebrates this beautiful "I love you" book as a welcomed addition to the popular line of custom created books.
Owl Always Love You features charming illustrations which are as intricate as they are appealing. Fall in love with a family of owls and friends as they "whoooo" their way into a child's heart. This irresistible and interactive rhyme features a child's name as the star of the book. Not only is it a keepsake gift sure to be treasured forever, it is an heartwarming bedtime story. The fanciful owl lulls them off to sleep while the lyrical words invite pleasant dreams for night owls. It's the personalized gift that artfully repeats a child's name while offering reassurance that you will always love them while making a child feel safe and secure.
An added bonus for Moms, Dads, Grandparents and Gift Givers – Owl Always Love You captures a beloved bedtime routine featuring a night time ritual that quietly and lovingly quiets your child's busy day with pleasant images and sweet dreams. This beautifully written and illustrated book personalized with a child's name featured throughout will be a time-tested keepsake and favorite for every child "whooooo" loves you, too!
#######
Flattenme.com has quite possibly the most magical personalized books and gifts on the planet. You can find their new title OWL Always Love You at flattenme.com as well as many other personalized books and custom gifts personalized for kids.