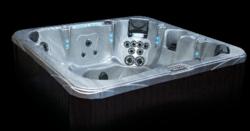 Orlando, FL
(PRWEB) April 09, 2013 -- Dimension One Spas (D1) will be hosting their second National Sales and Product Training for 2013 in Orlando Florida on April 16, 2013. This season will mark the 35th Anniversary for D1 as they continue to provide extensive training and support to spa dealers. This year's training is a new program, being lead by a Certified Spa Sales Consultant, who ensures that the dealer and consumer are provided with the most cutting edge training and product information.
The training will be lead by National Sales Trainer, Robert Randall, who has been with D1 since 2007. Randall has 18 years of sales experience and has been a National Trainer in the home improvement industry. He trained over 500 in-home and showroom sales consultants across the country, and brings his experience to the hot tub market. He also oversees the Southeastern United States as the Senior US Regional Consultant.
Robert has re-created the D1 National Sales Training Program to meet the needs of the next generation hot tub buyer and sales consultant.
"Customers are more well-informed and savvy than ever. If we educate consumers and provide the sales consultant with the proper presentation, success follows. Education is Motivation." says Randall.
Dimension One Spas also supports their spa retailers by providing regional one-day "Closer Camps." These intensive camps provide the dealer with training materials, interactive roll playing and conclude with a final exam. By having this type of one-day format, a dealer has very little loss of time at their location and their team comes back more prepared and motivated. The 2012 class saw a considerable increase in sales results.
D1 plans to increase the available online tools to dealers and add more Regional Mini Closer Camps as the company's momentum continues to build in 2013.
###
About Dimension One Spas
Dimension One Spas (D1) is the leading manufacturer of award-winning hot tubs and swim spas and home to the world's first curvilinear spa. Family-own and operated, D1 Spas is based in Vista, CA and sold through a network of dealers in the United States and worldwide. With over 35 years of experience, the company's four product lines and patented features offer a higher class of design, performance and value that meet a variety of consumer needs. For more information about Dimension One Spas, please visit: http://www.d1spas.com.