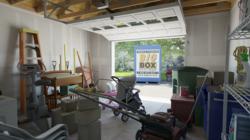 San Diego, CA (PRWEB) April 09, 2013
Big Box Storage Inc., a San Diego portable storage company, announced today that it has been named the Official Storage Company of the San Diego Padres. In conjunction with the new designation, Big Box Storage will be offering fans, season ticket holders, players, and personnel with various storage discounts and promotions throughout the 2013 season. An initial promotion offers one month of free storage at the company's San Diego storage facilities for any prospective storage renter that presents a Padres ticket stub from a game played within the prior 30 days.
The Padres will play their season home opener at Petco Park in downtown San Diego, California on April 9, 2013 at 3:40pm. The game is sold-out.
"We're excited about the partnership with the San Diego Padres," offered Rita Hurley, Director of Operations for Big Box Storage in San Diego. "We certainly respect their proven commitment to the San Diego community and hope that this will merely be the start of a long relationship."
"We are pleased to welcome Big Box Storage as the official storage company of the San Diego Padres," said Padres Vice President, Corporate Partnerships Jarrod Dillon. "It is a priority for the Padres that we continue to partner with strong, local businesses, and we are excited for our partnership with Big Box Storage."
About Big Box Storage Inc.
Big Box Storage Inc. is a portable storage company that services all of San Diego County, California. Ideal for individuals and businesses seeking a convenient, yet affordable, storage solution, the company delivers "Big Box" storage units directly to the customer's address. Once the customer has finished loading, the company returns to pick-up the Big Box for transport back to its San Diego facilities for secure, accessible storing. When storage is no longer needed, the customer can then have their "Big Box" storage unit re-delivered back to their new address in San Diego County or shipped to any metropolitan area across the United States. For additional information, please visit Big Box Storage or call 619-937-7038.