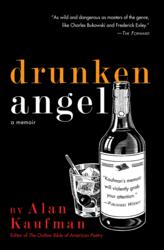 (PRWEB) April 09, 2013
"A clearly articulated roadmap to freedom for the addict, Drunken Angel is an easy and exciting memoir. This outlaw hero is someone to cheer for." —Foreword Reviews
Alan Kaufman has launched his new paperback memoir, Drunken Angel, the account of a life-long battle with alcoholism and his magnificent rise into sobriety. He was recently on KGO with Pat Thurston talking about his memoir.
Hear Alan discuss his memoir and recovery from alcoholism as well as his Jewish heritage and his poetry at these special events:
4/11: Books Inc., Opera Plaza, San Francisco - 7pm
4/15: Oshman Family JCC, Palo Alto, CA - 7:30pm
4/17: Spring into Recovery at Bistro Burger, 201 Mission, San Francisco - 5:30-7:30pm
He will be on the radio again with Cyrus Webb on Conversation LIVE! April 18th.
Alan Kaufman has been compared to Jack Kerouac, Henry Miller, Hubert Selby Jr., and even Ernest Hemingway, another soldier turned writer. Drunken Angel drops like a sledgehammer: an exhilarating account that takes the reader from East Village park benches and reciting Kaddish in Dachau to the pages of The New York Times. Along the way, Kaufman shares revealing portraits of mentors and friends, including Allen Ginsberg, Kathy Acker, Barney Rosset, Anthony Burgess, Elie Wiesel, Isaac Bashevis Singer and Bernard Malamud. Now a leading voice of the children of Holocaust survivors, Kaufman delivers a lacerating, cautionary tale of a life wasted and reclaimed through love and storytelling.
"Kaufman's memoir will violently grab your attention." —Publishers Weekly
"He's not neat, he's not careful... But there's more passion here than you see in twenty other books combined." —Dave Eggers