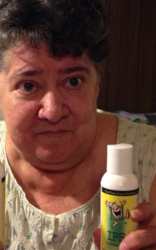 IPF-Pain Relief Lotion is the most effective fastest acting non-prescription formula on the market today for the relief muscle or arthritis pain
(PRWEB) April 09, 2013
"News of the recent product launch of IPF-Pain Lotion has now been covered by major new carriers from Florida to California and has resulted in a special website being created by PPI to feature the benefits of IPF-Pain Lotion to the many athletes with shoulder pain, back ache, knee pain, corporal tunnel and hand or wrist pain, as well as for sufferers of arthritis, "rheumatism" and sciatica who had little alternative for genuine pain relief other than potentially dangerous steroid-based products for topical pain relief", according to PPI spokesman, David Amos.
He goes on to say:
"IPF-Pain Relief Lotion is a huge improvement over traditional menthol-based products, such as Ben-Gay, that rely mainly on their ability to bring a "hot-cold" sensation to the problem area, and we hope the new web site will make more sufferers aware of IPF-Pain Lotions' benefits.
"By combining natural-pain relief ingredients with a liquefied aspirin derivative, we now have a safer, effective topical pain relief product that goes to work in minutes.
"It's no wonder the major networks NBC, CBS, ABC and others are carrying this news as reports keep coming in from long-time arthritis sufferers, telling about how IPF-Pain Relief Lotion has changed their lives.
"We even feature a video of one compelling story from a woman who reported that she hadn't had a good night's sleep in eight years due to her back pain. She'd tried everything her doctor prescribed for her and was finally told, "You'll just have to live with it", but after her husband applied the IPF-Pain Relief Lotion to her back, she was finally was able to sleep through the night pain free until morning.
"So many arthritis sufferers have reported success as well, even a musician who can now play his violin again without the pain in his fingers and hand."
"We've also heard from sciatica sufferers, such as the woman who applies the lotion every night to help her fall asleep without pain, and many who have reported relief from "rheumatism" and long term muscle problems, such as shoulder pain."
"To the best of my knowledge," concludes Amos, "IPF-Pain Relief Lotion is the most effective fastest acting non-prescription formula on the market today for the relief muscle or arthritis pain."
About:
Products Plus International (PPI) is a distributor of all-natural personal care products to include IPF-Pain Relief Lotion for muscle ache and arthritis pain relief, and Ultimate Desire for Men, the leading liquid, all-herbal ED formula. PPI markets all products in the USA through Amazon.com.
PPI is also a supporter of the Bee Wise Kids (BeeWiseKids.org) educational initiative and curriculum to prevent childhood sexual molestation, and Green Ribbon Schools (GreenRibbonSchools.org) , the nation's premier interactive learning site for 6th through 12th graders, a project of 4empowerment, headquarters in Austin, Texas.
Contact:
Winnie Peng
Tel 336-775-8615
Email: Winnie.ProductsPlusIntl(at)gmail(dot)com
http://www.ProductsPlusInternational.com
Products Plus International (PPI) is a Division of Lexis Global Marketing LLC
Address: 931-B South Main St., Suite 154, Kernersville NC USA 27284
About:
Lexis Global Marketing LLC (LGM) works with clients to develop and implement their marketing programs and strategies, domestically and internationally. http://www.LexisGlobalMarketing.com
Contact:
David Amos
Lexis Global Marketing LLC.
Tel 1-336-817-7376
Email: damos(at)lexisglobalmarketing(dot)com
Address: 931-B South Main St., Suite 154
Kernersville NC USA 27284