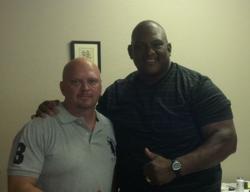 If I had met Mr. Gergen four years ago, I feel I could have saved my brother's life
Phoenix, Arizona (PRWEB) April 09, 2013
Many NFL players have been loyal and outspoken advocates of spreading awareness of the deadly disorder, Obstructive Sleep Apnea (OSA). Joined with David Gergen, owner of Gergen's Orthodontic Lab and founder of the PPHA, they have been on a mission to "Tackle Sleep Apnea". Statistically, over 60% of the NFL and former NFL players are suffering from OSA. Who better to speak and share personal stories to the public? "I am thrilled to see the momentum that we are making to help spread awareness of sleep apnea on a national level with these fantastic NFL greats!" said Gergen. "Spreading awareness at these events and screenings and through radio and television has been wonderful. I believe by spreading awareness we can save lives."
Recently the NFL Network filmed a documentary on former Arizona Cardinals player, Roy Green. Roy Green has experienced two heart attacks and two strokes. When he heard about Derek Kennard's story about meeting a gentleman by the name of David Gergen, he was touched to hear how David had saved Derek's life. If Derek had met him four years earlier David could have saved his brother's life as well. Roy Green has become a huge supporter of the PPHA and has been treated by Dr. Alan Bernstein in Tempe, Arizona.
With talks of concussions taking up most of the headlines in the news today, many people are not aware of how the "Silent Killer" is affecting them. It's for this reason that Pro Player Health Alliance is educating individuals on OSA by hosting free public events across the country. The next event will be sponsored by Dr. Gary Core in Phoenix, Arizona on National Sleep awareness day, April 18th. Dr Core has officially purchased a phenomenal Koala Center practice from Dr. Rod Willey, which will be the first in Arizona.
The primary goal of a Koala Centers are to help people sleep, breathe and live well through focused healthcare solutions. The team behind Koala Center for Sleep Disorders has demonstrated the ability to fully connect the dots of a medical clinic, a dental office, and a sleep boutique. They have combined everything into one professional, efficient and attractive setting.
Learn how you can improve your life or the life of a loved one by registering for and attending Pro Player Health Alliance' next event.
Event Details
Location: Sheraton Crescent Hotel 2620 West Dunlap Avenue, Phoenix, AZ 85021
Date: April 18, 2013
Time: 7:00 p.m.-8:30 p.m. (MST)
Phone: 602.863.3411
About Pro Player Health Alliance
The Pro Players Health Alliance (PPHA) is an organization dedicated to helping former NFL players, through providing testing and treatment options for those who suffer from sleep apnea. In addition, the PPHA is dedicated to integrating education and raising sleep apnea awareness, in a fun and memorable way. In addition to the campaign, the PPHA is dedicated to testing and getting people treated who suffer from sleep apnea. The PPHA was created by David Gergen, President of Gergen's Orthodontic Lab and Former NFL legends.
About David Gergen
David Gergen, CDT and President of Pro Player Health Alliance, has been a nationally respected dental lab technician for over 25 years. He received the award for "The Finest Orthodontic Technician in the Country" given by Columbus Dental in 1986. He also has been appointed chair of the dental wing of the American Sleep and Breathing Academy a national interdisciplinary academy dedicated to sleep training and education with over 60,000 members. David rolled out of bed on September 12, 1981 and had his career "ah ha" moment. He knew he was going to be an orthodontic technician and he knew he was going to help people all over the country to help treat their sleep disorders in partnership with their dentists. He has worked for some of the pioneers in the orthodontic and sleep dentistry fields. He was the personal technician for the likes of Dr. Robert Ricketts, Dr. Ronald Roth, Dr. A. Paul Serrano, Dr. Clark Jones, Dr. Harold Gelb, Dr. Joseph R. Cohen, Dr. Rodney Willey, Dr. Allan Bernstein, and Dr. Thien Pham. One of his proudest achievements is receiving The National Leadership award for Arizona Small Businessman of the Year in 2004.