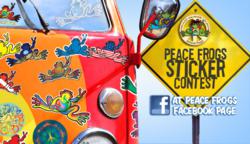 Gloucester, Va. (PRWEB) April 09, 2013
Peace Frogs stickers. Chances are you've seen one, or two, around your neighborhood, on a car passing by, or even somewhere in your own home. These smiling frogs tend to pop up in the most interesting places and the Gloucester, Va.- based apparel and gifts company would like to see just where.
Earlier this month, Peace Frogs launched its inaugural sticker contest, calling on all Peace Frogs fans to send in photos of Peace Frogs stickers via the official Peace Frogs Facebook page – http://www.facebook.com/PeaceFrogsCompany.
Fans can post / upload the pictures on the Peace Frogs Facebook wall.
On April 15, Peace Frogs will release a Facebook photo album of all the submissions and ask the Peace Frogs community to vote for their favorite by "liking" the photo they think is the best.
The fan who submitted the image that received the most votes, or likes, by April 30 will win a $100 gift certificate to Peace Frogs' online store – http://www.peacefrogs.com.
Established more than 25 years ago by Catesby Jones, Peace Frogs, a casual apparel and gifts company, promotes positively peaceful living.
Peace Frogs t-shirts, sweatshirts, lounge pants, yoga pants, ladies wear, unique gifts and baby clothes are featured online, in more than 800 specialty stores around the world and via an annual catalog. With 16 freestanding stores and 20 licensees, the Peace Frogs brand grows each year.
For more information about Peace Frogs, contact Jones at catesby(at)mindspring(dot)com.