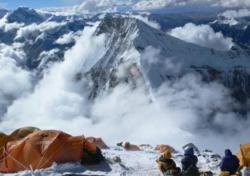 Trekking is a very popular travel style within Tibet. -- Helen Wang
(PRWEB) April 25, 2013
WindhorseTour reminds their clients the best season for their Tibet trekking tours is arriving in May. They offer 5 base tours which can be easily customized for trekkers. The main highlights include Everest Base Camp, Mount Kailash, Ganden to Samye and other less visited destinations for outdoor lovers to experience. Compared with other Tibet overland trips, these 5 trekking tours provide a different travel style for clients seeking an adventure experience to Tibet
For over 10 years, WindhorseTour has specializes in designing customized travel plans as well as providing affordable group tours throughout Tibet. Their goal is to help their clients with the first hand advice and develop the unique tour that matches individual interests and travel styles.
"Trekking is a very popular travel style within Tibet. Two of the most popular trekking tours are 10 days Ganden to Samye trekking tour and 12 Mount Everest Base Camp trekking tour" Helen Wang, the sales manager at WindhorseTour said. All the Tibet trekking tours offer a great chance for hikers to capture the pristine scenery of some less visited areas in Tibet and interact with nature. Additionally, camping, picnic, and other outdoor activities are all totally different experience in these tours.
En route over a 10 days Ganden to Samye trekking tour, clients start the trip with a visit in Lhasa. Then they drive to Ganden Monastery and have a 4 days trek from Ganden to Samye to capture the breathtaking lakes, alpine forests and meadows, as well ancient Tibetan religious culture.
Another popular trekking route is 12 days Tibet Mount Everest base camp trekking tour, clients start with an overland trip from Lhasa to Old Tingri. Then they venture into the wilderness and trek to the Everest base camp, where they can see the magnificent sunrise among the highest peak in the world first hand.
In these 5 Tibet trekking tours, all tour packages are supported with fully qualified local guides, well maintained equipment and nutritious meals to keep spirits and energy high throughout the journey. Helen Wang expressed: "The goal is simple. clients should have no worries when they travel with WindhorseTour! So we strive to answer all questions and ensure all concerns are put to rest, before confirming a client's reservation."
WindhorseTour specializes in creating tailor made experiences based on every client's unique needs and operating groups to all provinces in China. Please visit WindhorseTour.com for more information or contact them.
Email address: news(at)windhorsetour(dot)com
TEL: (+86)-28-85593923, (+86)-28-86254701
Fax: (+86)-28-86254710