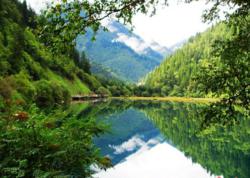 There are so many great views in Jiuzhaigou Valley! Very restful as we wanted. -- Sally
(PRWEB) April 20, 2013
WindhorseTour, a local travel agency offering tours to the popular destinations in China for over 10 years, updated the summer prices for their most popular Jiuzhaigou tours on the website, starting from $392.
Lying on the highest mesa in the world between the Sichuan Basin and the Qinghai-Tibetan Plateau, Jiuzhaigou Valley is listed as a UNESCO world heritage site because of the large number of lake groups, waterfalls and rich variety of endangered plants. Sally, a client of WindhorseTour said, " There are so many great views in Jiuzhaigou Valley! Very restful as we wanted."
WindhorseTour has been reminding their clients summer is a comfortable season to visit Jiuzhaigou. Comparatively, autumn is the most popular season to visit Jiuzhaigou. However, considering the high price during that season, coming to Jiuzhaigou in summer offers an alternative choice for the travelers who are in budget or want to seek different landscapes of Jiuzhaigou.
En route over the most popular 3 days Jiuzhaigou and Huanglong national park tour, travelers will capture the lakes that cannot be visited in winter and spring with crystal clear water, magnificent waterfalls as well as the natural forests, which are filled with the color of green.
One of the most interesting activities in this trip is to learn about the locals' unique life and culture. The Mazi Fair, held every year on May 15th of the Chinese lunar calendar, is the most important and largest celebrations in summer. It is a vital religious event for Tibetans living here. On that day, the local Tibetans will dress up and come here to participate in the celebration.
Jiuzhaigou is in the rainy season during summer, but usually the rain does not last for a long time. The temperature is not hot, ranging from 13 C (55.4 F) to 21 C (69.8 F) on average. WindhorseTour suggest their clients pack T-shirts, dusts coat and jeans during the trip. For the sunny days, it is better to bring the sunglasses, sunbonnet, sun lotion and umbrella. the summer nights in Jiuzhaigou are comfortable, with cool temperatures.
WindhorseTour specializes in creating tailor made experiences based on every client's unique needs and operating groups to all provinces in China. Please visit WindhorseTour.com for more information or contact them.
Email address: news(at)windhorsetour(dot)com
TEL: (+86)-28-85593923, (+86)-28-86254701
Fax: (+86)-28-86254710