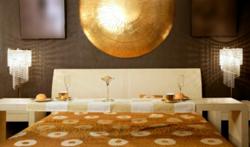 The selection of the right wall and floor colors can enhance the look of the room over the effect of the furniture style. The colors used - or left out- are key components to an interior design's success
San Francisco, CA (PRWEB) April 09, 2013
Newlyweds and new domestic partners may find it impossible to consider their future together beyond the rigorous details of moving that have currently taken over their lives. After the pomp and circumstance of saying "I Do", comes the merger of two individual life styles along with two sets of furniture and décor, into one new home that the happy couple will both enjoy. KindaChic.com, a home décor and furnishing website, can provide the new pieces that will bring these collections together.
Young couples often are employed earning slim salaries and their combined home furnishings are more functional than stylish. Their accessories often reflect "pop" kitsch rather than the sedate comforts of arm chairs with ottomans in front of a television. Older "new" couples have tired of the mismatched hand-me down sofas and chairs of their youth. Each partner has begun to invest in a more defined home style with tables, bookcases, sofas and chairs that reflect a new personal interior design. Decorating a first home together begins with combining the furniture and accessories dear to both partners.
To help a young bride live with her groom's "vintage" sofa and bean bag chair, the selection of the right wall and floor colors can enhance the look of the room over the effect of the furniture style. The colors used - or left out- are key components to an interior design's success. Chances are the new groom isn't comfortable sleeping under the bride's canopy bed with dust ruffle, but the right color choices for the wall and floor can lessen the softness of the feminine frills. Well chosen interior color combinations can create a captivating effect that will over power a particular sofa or bed selection. The right colors can add vibrancy to the room's décor also. Using several shades of the same color will create depth and visual harmony in a room. Applying shades of the chosen color can keep the vividness of this color from looking chaotic. It's a fine step between the harmony and chaos color can create. So, with the appropriate choice of color, two conflicting home styles can co-exist after the new couple has crossed the threshold.
Often single women collect the decor accessories for a home – the finer things of life, while men tend towards acquiring the furniture pieces – the creature comforts. When two households merge, these two collections can compliment each other even with differing styles. To embellish the color theme of a room, make it "pop" with the small colored accents of the bride's décor pieces – pillows, lamps, vases or paintings. The best "pops" will come if these small accents are of a completely different color. By adding this new bit of color, a room won't appear muddy or drab from a color's overuse. For example, if you're working in warm tones of red and orange, inject a little cool blue. This "trick" works in all artistic media, painting as well as interior design. A home's color palette will appear blah without the use of enough visual color differences.
As with any kind of decorating it's important to incorporate a blend of textures into the home design. Choose the bold-textured fabrics and furniture pieces from each partners' collection to create an interesting interior in a room with a plain construction style. Boldly colored walls will provide a definite focal point in a featureless space. In a small room, use the finely embellished decor elements to make this space appear larger. Intricate fabric designs covering a sofa and chairs will become the primary design focus. A different fabric design selected for full-length curtains will create a secondary design focus. Decor elements such as rugs or pillows, or a small furniture piece, in a solid complimentary color will accent the finely textured elements in the room. This accent will bolster the interior design over the room's size. So carefully review the acquisitions of this merger to coordinate the proper accent with the bean bag chair. Visit the home collection at Kindachic.com if the proper accent is currently on hand.
Solid color fabrics such as leather, velvet, silk, or heavy cotton contribute to a room's textural landscape as well. The sheen of silk fabrics gives the room a lighter feel. The textures of heavily fissured velvets and thick woven cottons add a bolder, more masculine design element. Texture is often overlooked in a home interior design, but the various fabric and furniture surfaces lend an important visual contribution. So, the groom will sleep underneath the bride's canopy bed if he's lying beneath a boldly colored heavily woven cotton comforter with matching curtains at the window.