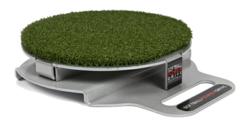 Teaching a natural momentum delivery with proper fast pitch mechanics
Boston, MA (PRWEB) April 09, 2013
SOFTBALL POWER DRIVE today announced the production of additional training videos to help softball players develop proper pitching mechanics. "We are excited to continue our training and educational curriculum work with Denise Davis, Founder of PLANET FASTPITCH, professional instructor and former Rutgers University All American," said, John Miller, president, of POWER DRIVE PERFORMANCE Inc.
Denise has a great knowledge of softball skills and what works in helping develop players to their highest potential, said Miller. She is deeply passionate about softball and loves teaching young players the skills necessary for success on the diamond. Power Drive Performance has been working with Denise for three years on development and production of video training to help advance players knowledge, skills and training on the Softball Power Drive, Miller added. The six new training and educational videos are:
1) Phase 1 - The Preparation Phase
2) Phase 2 - The Pitch
3) Positive Angles
4) Learning Proper Mechanics on the Softball Power Drive
5) Illegal Pitches
6) Owners Only Training Site Learning Opportunity
The six new videos can be viewed for free on the Softball Power Drive web site home page at http://www.softballpowerdrive.com. Miller said, the plan was to put the training on the front side of the web site and not keep on the private "Owners Only" training site. The videos are so informative on this great sport, as professional instructors it was an opportunity to share with as many players as possible, Miller added. The videos will be added to the other 1 1/2 hours of training videos on the "Owners Only" site in the near future.
Miller said "the power of a web base training site is to allow continuous learning with the capability of adding new drills and workouts at any time. The Softball Power Drive training site was set up for this reason, to enable quarterly training updates by professional trainers and college coaches to our player owners at no cost. The site has grown in popularity with over 250 Collegiate programs and hundreds of high schools, academy's and travel teams using the learning site in just 2 1/2 years. Traffic to the site is at an all time high in 2013," added Miller
The SOFTBALL POWER DRIVE was introduced in November 2010. The Professional / Collegiate Model is the "ORIGINAL, US PATENT" design which operates strictly on gravitational force only, created from a pitchers and hitters natural momentum delivery or swing with no springs to resist or assist a players movement. This produces real game practice conditions designed to help softball players achieve maximum power and velocity from using their stronger lower body muscles with their natural momentum. The patent auditory click provides instant feedback to let the player know the timing of their natural movement and momentum power drive. This multisensory learning created by the auditory click and kinetic feel has provided great success with the SOFTBALL POWER DRIVE for professional, collegiate and youth softball players. For more information about Power Drive Performance visit http://www.powerdriveperfrmance.com
Power Drive Performance is based in Holliston, Massachusetts. They are the developer of the US patent Pitchers Power Drive Professional / Collegiate model, the Pitchers Power Drive Youth model, Softball Power Drive, Hitters Power Drive and Golfers Power Drive. The design of the Power Drive training aids come from their extensive experience training pitchers and hitters at the Winning Pitchers Academy. Pitchers Power Drive is a trademark of Pitchers Power Drive.