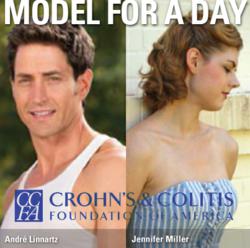 "For a $25 donation to CCFA, participants will receive hairstyling and makeup, model coaching and a professional photo," said Christa Jones, CEO, Brillare Hairdressing Academy. "Our students are excited to use their talents to support the community."
Phoenix, Arizona (PRWEB) April 09, 2013
Brillare Hairdressing Academy, a Phoenix-based independent cosmetology school, will be hosting a "Model for a Day" event on Saturday, April 13, 2013 for children and adults to benefit the Crohn's and Colitis Foundation of Arizona (CCFA).
For a $25 donation to CCFA, participants will receive hairstyling and makeup, model coaching and an on-site headshot photo session with Korpong Studio Photography which includes one complimentary image.
"This event is a fun way to feel like a model and would also benefit anyone who needs a professional photo for their resume or social media profile," said Christa Jones, Chief Executive Officer for Brillare Hairdressing Academy. "At Brillare Academy, we believe that looking your best instills confidence and supporting a great cause makes you feel even better."
The Young Agency models Jennifer Miller and André Linnartz will be on hand to provide runway and modeling coaching for participants. Sponsors of the event include The Young Agency, Korpong Photography and Sephora.
Event organizer Jennifer Miller was recently selected as the honored hero for the upcoming CCFA Walk on April 27 in Tempe. For more information about Miller and the CCFA Walk, visit [http://online.ccfa.org/site/TR/SpecialEvents/Chapter-Southwest?pg=entry&fr_id=3896.
"Jennifer is a great role model for any young person who has IBD," said Megan Livengood, Walk Coordinator for Crohn's & Colitis Southwest Chapter. "Although she has undergone multiple surgeries and treatments, she has remained positive and active and has continued to pursue her dreams – which include modeling."
Reservations are available at 10 a.m. and 11:30 a.m. at the Brillare Academy's Scottsdale Campus, located in the Scottsdale Quarter. Call the Brillare Academy reception desk for reservations at 480.994-4222. All funds raised go directly to the Crohn's and Colitis Foundation (CCFA).
Brillare Academy offers day, night and midday cosmetology programs as well as client hair and waxing services in an upscale salon-like setting at both its Scottsdale Quarter location and its Phoenix/Chandler location. Brillare Academy students benefit from small class sizes, hands-on training, experienced instructors, business education, experience with luxury product brands, and interaction with top stylists from a variety of local salons.
About Brillare Hairdressing Academy:
Brillare Academy is an award-winning cosmetology school and is the first and only school in Arizona (and one of only 17 nationwide) to be certified as a Sassoon Academy | School Connection Member School. This distinction gives students access to two of the best resources in the industry: The ABC's of Cutting and Colouring Hair the Sassoon Way and Nuts and Bolts professional business training that goes beyond the chair.
Brillare (pronounced Bree-lar'-ay) means "to shine" in Italian. The retail and client services areas feature the most sought after products in the professional hair care industry including Davines, Eufora and Moroccanoil.
Brillare Hairdressing Academy is accredited by the National Accrediting Commission of Career Arts and Sciences (NACCAS). All client services are performed by students under the supervision of licensed instructors.
Brillare Hairdressing Academy campuses are located in Scottsdale at 15147 N Scottsdale Road, Suite H-300, phone: 480.994.4222, and in Phoenix at 15210 S. 50th Street, Suite 150, phone: 480.940.5300. For more information about programs, services offered and consumer disclosures, visit http://www.brillare.com. Find Brillare Academy on Facebook, Twitter and Instagram at brillareacademy and on Pinterest at Brillare01.