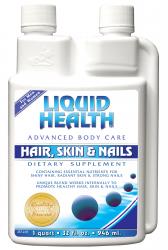 People don't realize the important role vitamins can play in maintaining different areas of health and beauty.
Murrieta, CA (PRWEB) April 10, 2013
Vitamins can play an important role in achieving and maintaining clear skin, healthy nails and beautiful hair. Liquid Health, Inc. manufactures a variety of supplements to help avoid hair loss, promote strong nails and clear up acne-prone skin. Some of the most beneficial vitamins for hair, skin and nails include Vitamin B5, Biotin and Zinc.
Vitamin B5 is extremely helpful in clearing up acne-prone skin. A trial performed by Dr. Lit-Hung Leung in 1995 found that participants saw their acne start to clear up in as little as 4 weeks when taking high doses of Vitamin B5 (or pantothenic acid). This natural acne-fighter works to reduce the skin's production of sebum, which can eliminate blemishes before they have a chance to form by keeping the pores from getting clogged up and turning into pimples.
Biotin has long been associated with healthy hair and nails. One study performed in 1989 found that "of the 45 cases which finally could be evaluated, 41 (91%) showed definite improvement with firmer and harder finger nails after an average treatment of 5.5 +/- 2.3 months."
One of the symptoms of Zinc deficiency is hair loss, according to the Office of Dietary Supplements. Because of this, it stands to reason that getting adequate amounts of Zinc can help you to maintain strong, healthy hair, and possibly even fight off hair loss.
"People don't realize the important role vitamins can play in maintaining different areas of health and beauty. Eating a healthy diet and supplementing for your problem areas like hair loss or brittle nails, can really make a big difference," says Rob Bonham, Online Marketing Directing for Liquid Health, Inc.
Liquid Health's Hair, Skin and Nails supplement contains:
Vitamin E (as d-alpha tocopheryl acetate) 80iu
Thiamin (as thiamin hydrochloride) 10mg
Riboflavin (as riboflavin 5 phosphate) 25mg
Niacin (as niacinimide) 25mg
Vitamin B6 (as pyridoxine hydrochloride) 25mg
Folic Acid 400mcg
Vitamin B12 (as methylcobalamin) 100mcg
Biotin 1000mcg
Pantothenic Acid (as calcium pantothenate) 50mg
Calcium (as calcium gluconate) 25mg
Borage Oil (Borago officinalis) (seed oil) containing: palmitic acid, stearic acid, linoleic acid, gamma linolenic acid (GLA) 300mg
This product also contains 1400mgs of a proprietary blend of Glucosamine Sulfate (Shellfish), MSM (Methylsulfonylmethane), Horsetail (Equisetum arvense) Aerial Stems Extract, Collagen Hydrolysate, Kelp.
About Liquid Health, Inc.:
Liquid Health, Inc. has been designing and manufacturing liquid vitamin supplements since 1991. All Liquid Health products, including Hair, Skin and Nails, are manufactured in a certified-cGMP (current Good Manufacturing Practices) facility, using only premium/qualified ingredients, and are analyzed and tested. All Liquid Health products are made in the U.S.A.
Contact:
Sarah Brimhall, Marketing Associate
Liquid Health, Inc.
800-995-6607
http://www.liquidhealthinc.com