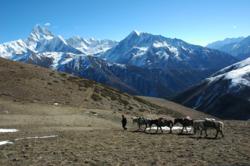 Good trip, we would recommend it to our friends. -- Henry
(PRWEB) April 18, 2013
As the 2013 travel season arrives, many clients have already started planning their trips to Tibet. WindhorseTour, a local travel agency with offices in Lhasa, has been providing their clients with updated travel advice for visiting the "roof of the world". For over 10 years WindhorseTour has been designing customized travel plans along with offering affordable group tours to Tibet. Many clients have been discussing both the 8 and 10 days overland trips with their travel agency.
These popular Tibet tours cover all the top recommended destinations such as Lhasa, Tsetang in Central Tibet, Mount Everest at 8,848 m. (29,029 ft.), and Namtso Lake in Northern Tibet. All of these places offer travelers a great chance to enjoy the stunning views of the valleys, mountains and explore the culture of the locals.
One of their most popular Tibet tours is a 10 days trip which includes a trek to the Everest Base Camp, and other top scenic spots in Tibet. Henry, one client who took this tour at WindhorseTour said, "It was a good trip, we would recommend it to our friends."
En route over this 10 days Mount Everest Base Camp tour, clients start their trip with a visit to Potala Palace, Jokhang Temple and other highlights in Lhasa city. Then they venture into Tsang on the Friendship Highway and ascend to the Mount Everest to explore the alpine scenery and unique culture. The highlight comes at the 6th day when they trek from Rongbuk Monastery to Mount Everest Base Camp to admire the magnificent sunrise among the highest peak in the world. As they depart and drive back to Lhasa in a different route, stop to spend their last night in a tent guesthouse in the holy Namtso Lake.
WindhorseTour specializes in creating tailor made experiences based on every client's unique needs and operating groups to all provinces in China. Please visit WindhorseTour.com for more information or contact them.
Email address: news(at)windhorsetour(dot)com
TEL: (+86)-28-85593923, (+86)-28-86254701
Fax: (+86)-28-86254710