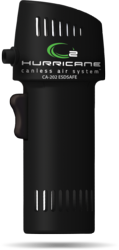 "This product is a must have for anyone who works in a static-free environment," says Scherer.
Scottsdale, Arizona (PRWEB) April 09, 2013
Canless Air System CEO and founder John Scherer is proud to announce the arrival of the new Canless Air System ESD-safe unit.
The original Canless Air System O2 Hurricane units were designed to clean and dust everything from household items to delicate electronics. Rather than the dangerous, potentially lethal chemicals contained in traditional canned dusters, the Canless Air System electrostatic discharge (ESD)-safe unit blasts dust away using the air we breathe. Scherer helped develop this product after a large defense contractor expressed its need for a static-free for use in clean rooms. Ever since Canless Air System created the O2 Hurricane ESD-safe unit, Scherer's team has sold hundreds of units of the product. In an interview earlier this month, Scherer reflected, "I learned a long time ago that in order to be successful, I had to place the consumer's needs first. With that in mind, we took stock of what our client base really needed, and we created our ESD-safe unit. It can be used in clean rooms or anywhere else that static electricity can cause damage to sensitive electronic devices."
The materials used in the new Canless Air System O2 Hurricane ESD-safe units have an exponent value of 4-6, which puts them above the static dissipative category and into the conductive grouping. The new units have the same power as the Canless Air Industrial unit and are rechargeable up to 500 times. This means that not only are they ESD-safe, but they produce no hazardous waste.
"It's safe for even the most sensitive of jobs," Scherer says. "The feedback we have received from our clients—which include some of the largest aerospace companies on the planet, equipment maintenance companies, hospitals, chemical manufacturing companies, laboratories and many more—has been very positive. This product fills a crucial need, as one of the dangers of using a conventional duster in a clean room is that the static it produces can cause damage to solid state electronic components and integrated circuits. Our new ESD-safe units eliminate that costly and dangerous variable."
"This product is a must have for anyone who works in a static-free environment," says Scherer. "The ESD-safe unit discharges air at more than 200 miles per hour and is completely static free. Entirely safe for clean rooms, it also maintains the cost-saving and environmental benefits provided by our standard and industrial units."
The bottom line, Scherer says, is this: "Businesses now have an alternative to the dangerous canned air products they've been forced to use in the past. Our ESD-safe product is static free, saves money, is safe for employees to use, and does not harm the environment."
Business columnists and tech reviewers alike have bestowed positive reviews upon the standard and industrial units of the O2 Hurricane, but they acknowledge that the new ESD-safe units are a much-needed upgrade for areas that require a static free environment.
The O2 Hurricane is assembled in the USA at its facility in Tucson, Arizona with company headquarters in Scottsdale.
For more information about ESD-safe O2 Hurricane, visit http://www.canlessair.com. You can also follow us on Facebook, Twitter and YouTube for more news about the O2 Hurricane.