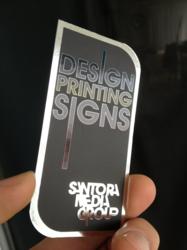 ROI is the Goal!
San Diego, CA (PRWEB) April 09, 2013
Quality business cards that clearly convey a company's message largely contribute to increasing clientele and profits. Santora Media Group understands that these cards are a valuable marketing tool, hence the reason they have just invested in state-of-the-art business card printing technology. This several thousand dollar investment has undoubtedly afforded Santora Media Group the opportunity to offer their customers a wide assortment of supreme quality business cards that convert prospects into paying customers.
As part of their effort to offer their customers premium quality marketing materials, a plan is set in place to ensure excellence. First, consultants meet with potential clients to discuss pertinent details, like business card design, promotional text and color schemes. Once all of the details have been provided, the consultant quotes a price. If the customer agrees with the price, which is usually much lower than what competing companies offer, the order is then forwarded to graphic design and marketing professionals to be completed.
Since the design and marketing team is made up of highly trained professionals, customers can rest assured that any cards that they order will be crafted to perfection. Staff will put their creative powers to use; making a business card that will attract attention and produce high conversion rates. Many business owners have been happy to recommend Santora Media Group's business card printing and design services because they have been happy with their results.
Throughout the entire process, clients are in communication with company staff. Customers are shown a model of the completed business card before a batch is printed and sent out. Upon seeing the model, clients can make change requests, and these will be made accordingly. If no changes need to be made, then staff will proceed with the production process, and the finished cards will be delivered to the customer. This ongoing communication is to ensure that everything is done correctly from start to finish and that the customer is 100 percent satisfied.
Along with working to ensure customer satisfaction, Santora Media Group adheres to practices that promote environmental preservation. The foil, die cut, eembossed, spot UV business cards, plastic and custom paper business cards are all made from recycled materials. In addition to using recycled goods, Santora Media Group prints all marketing materials with all-natural, soy-based inks.