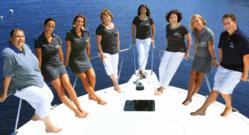 Franklin, MA (PRWEB) April 09, 2013
St. Barth Properties, the premier luxury villa rental agency on the chic Caribbean haven of St. Barth, has received the honor of being named by Travel + Leisure magazine to its list of just forty "Best Villa Rental Agencies" worldwide.
The company is the only agency to be included on the list with an exclusive focus on St. Barth. The publication cited the rigorous inspection of the more than 160 private villas that its team of villa specialists conducts on a regular basis.
Peg Walsh, founder and president of St. Barth Properties, commented, "I am so grateful to my US and island-based teams for their huge contribution in earning this honor for all of us. The villa specialists, with their destination expertise, collaborate with our concierges to fulfill our mission of delivering a dream vacation experience to our guests. We are thrilled to be included in such great company as the other agencies and to be recognized by Travel + Leisure, a publication we all hold in great esteem."
About St. Barth Properties
St. Barth Properties, Inc. ( StBarth.com ) is a boutique travel company specializing in vacations exclusively to St. Barth, FWI. The company has a portfolio of over 160 carefully selected private villas, a branded collection of the island's most distinctive hotels and offers a full range of concierge services. Founded in 1989, with the maxim Live Your Dream ®, the company and its service-oriented staff leverage their combined expertise and passion for the destination to deliver a dream vacation. Headquartered in Franklin, MA, the company maintains a fully staffed office on St. Barth.
Keep in Touch With St. Barth Properties

# # #