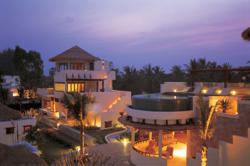 BANGKOK, THAILAND (PRWEB UK) 10 April 2013
Families can play together and stay together at AHMS Collection resorts, with new experiences designed to keep children busy learning and exploring each resort and its locale.
The leading independent boutique hotel group is delighted to announce the 'Secret Beach Explorers' package - a series of escapes aimed at keeping the children busy while forging closer bonds between parents and children, inspired by the off-the-beaten-track, in-the-know nature of all of the AHMS Collection resort locations.
At the group's flagship AKARYN Samui Resort and Spa, children will spend a day learning how to cook Italian pizza or classic Thai dishes, then with the assistance of our chef and his team, will cook dinner for their parents. They can also take the plunge into pristine and private Hanuman Bay to learn at first hand all about AKARYN's coral reef regeneration program.
At Aleenta Phuket-Phang Nga, mother-and-daughter and father-and-son 'Spa IV Families' sessions will bring families closer and get the youngsters into the habit of skincare and wellbeing. Children can also visit the turtle sanctuary in which Aleenta's Pure Blue foundation plays a key role, raising funds, educating locals and throwing an annual charity fundraising event. Food is also on the agenda and children can also enjoy cooking classes led by Aleenta's expert culinary team.
Aleenta Hua Hin-Pranburi is delighted to offer cycling tours and organic farm visits for families, and children are given the chance to learn about the resort's commitment to locally sourced food and the tenets of the SLOW Food movement.
The founder, visionary and Managing Director of Akaryn Hospitality Management Services (AHMS), Anchalika Kijkanakorn, who has become the first female Chairman of the Board of leading hospitality group Small Luxury Hotels of the World (SLH), said families would leave after their getaways feeling refreshed, relaxed and much closer as a family unit.
"As a mother of two young boys myself I can appreciate the need to have time together that is meaningful, fun and productive," she said. "I think these programmes will certainly deliver this and can be enjoyed in environments that are positive, private and off the typical tourism tracks on beautiful, pristine and relatively unknown beaches."
Secret Beach Explorers Family Experience
AHMS Hotels are offering special family rates from 08 April - 31 October 2013 for two adults and two children including luxurious accommodation, gourmet breakfast and all taxes at the following resorts:

Aleenta Hua Hin-Pranburi: THB 11,650 / USD 388 per night for a 2 x Bedroom Chaba Villa with private garden and full ocean views
Aleenta Phuket-Phang Nga: THB 17,530 / USD 584 per night for a 2 x Bedroom Pool Residence with private pool and full ocean views
AKARYN Samui: THB 17,68 / USD 590 per night for a 2 x Bedroom Pool Villa with private 8 metre pools