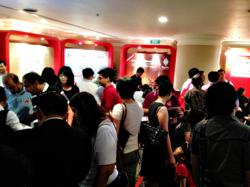 ....PropertyGuru's Malaysia Property Show has proven to be a hit...from the record number of visitors and amount of sales
Singapore (PRWEB) April 10, 2013
PropertyGuru, Asia's leading online property group, saw a four-fold increase in visitorship and three times the number of properties sold at the 4th edition of its recent Malaysia Property Show as compared to last year.
This can be attributed to the recent 6th and 7th rounds of cooling measures introduced between Q3 2012 and Q1 2013 – an indication that Singaporeans are becoming more attracted to Malaysia properties primarily because of the absence of purchase restrictions and the favourable exchange rate of the Singapore Dollar.
Findings from PropertyGuru's 2012 Q4 Consumer Sentiment Survey conducted among Singapore consumers further confirm this with 30% of 660 respondents expressing interest in overseas property investment. Half of them indicated Malaysia being their preferred investor destination, an increase of 50% over survey results tabulated in Q3 2011.
The Malaysia Property Show is part of PropertyGuru's monthly international event platform which showcases properties from cities across Asia. The popular investment event leverages on the popularity of online property search and actual on-ground investments to enable property investors to make smarter property decisions first-hand.
Steve Melhuish, Co-Founder and Chief Executive Officer of PropertyGuru Group could not be more pleased with the overwhelming attendance: "Malaysia has always been top-of-mind favourite for local investors searching for alternative investment options outside of Singapore. The latest edition of PropertyGuru's Malaysia Property Show has proven to be a hit with the immense support seen from the record number of visitors and amount of sales over the weekend. That being said, we are definitely looking to host more investor events in the coming months."
PropertyGuru Group is Asia's leading online property portal group used by almost 11 million property buyers, viewing over 85 million property pages and generating over 350,000 enquiries for real estate developer and agent advertisers – every month.
Headquartered in Singapore, PropertyGuru was founded in 2006 by 2 entrepreneurs with a vision to simplify the property search process and help buyers, sellers and investors make better property decisions faster. Taking advantage of Asia's growing affluence, property demand and online explosion, it received its first VC investment funding in 2008 and most recently secured approximately $60m investment in 2012 from Deutsche Telekom, South East Asia's largest digital investment to date. Since its launch, PropertyGuru has reported rapid growth and most recently announced a record 96% increase in revenue, 60% increase in internet users and 50% increase in paying agent advertisers to 24,000 – in 2012.
The award winning company focuses heavily on innovation. Over the last 18 months, the Company has developed and launched 13 mobile applications in 4 countries and 3 languages which have received over half a million downloads – almost 50 per cent of its users in Singapore now originate from a mobile device. PropertyGuru was also the first to integrate website with social media, first to launch Singapore's only dedicated property newspaper with over 100,000 copies circulated island-wide every month and developing a property events platform with approximately 30 shows held annually across 4 countries addressing 30,000 potential property buyers on the ground.
PropertyGuru has won multiple awards:
-Mob-Ex Awards 2013 (Gold) "Best Mobile App by a Media Owner"
-Mob-Ex Awards 2013 (Gold) "Best Informative Use of Mobile"
-Mob-Ex Awards 2013 (Finalist) "Best Mobile Advertising Solution"
-OPP Awards For Excellence 2012 (Gold) "Best Innovation"
-OPP Awards For Excellence 2012 (Silver) "Best Media"
-OPP Awards For Excellence 2012 (Bronze) "Best Online Service"
-OPP Awards For Excellence 2011 (Gold) "Best Media Brand"
-OPP Awards For Excellence 2011 (Silver) "Best Online Service"
-Singapore IT Federation (SITF) Merit Award for "Mobile Application" 2011
-Red Herring Top 100 Asia Award 2011
-Hitwise "No.1 Website in the Property Industry" award 2011"
-Marketing Magazine Digital Media of the Year 2011, Singapore Property Category
-South East Asian SME Tiger Awards 2011 Gold Award – Online Business
-Singapore IT Federation (SITF) award for "Best E-Enterprise Company 2010"
-Marketing Magazine's "Top Digital Media of the Year 2010" Award
-Singapore Venture Capital & Private Equity Association (SVCA) award for "Best Performing VC Backed Company 2010"
-CNBC World's "Best Property Portal Award 2009" Award
-Google Zeitgeist Singapore 9th Fastest Rising Search Term 2009 Award
BIOGRAPHY:
Steve Melhuish, Co-Founder and Group Chief Executive Officer
Steve is an award-winning entrepreneur. For the last two decades, Steve built profitable companies throughout Asia and Europe and in 2006 along with his co-founder Jani Rautiainen, founded PropertyGuru Group.
Under the auspices of this newly established holding group, PropertyGuru.com.sg was started with the aim of providing a one-stop online shop for the listing and sale of residential properties to individual and institutional home buyers and investors respectively.
Prior to Steve's current role, he held executive positions in various venture capital firms including Skype, AOL, Virgin Media, Vodafone, Extreme Media, iPass and Ariadne Capital. In all, Steve's expertise in leading global teams resulted in a US$500 million turnover for a business unit for Cable & Wireless. In 2007, Steve was awarded the Spirit of Enterprise Award, in recognition of his contributions to entrepreneurship in Singapore.
Steve is a non-executive director for two other firms, an angel investor and member of the Business Angels Network South East Asia.