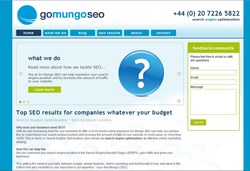 What is special about our organization is that no-body here compromises with the quality of our service. What others promise to do, we actually deliver. - Steve Carr, senior SEO analyst at Go Mungo SEO
(PRWEB UK) 10 April 2013
A London-based SEO company, Go Mungo SEO reveals their client retention rate, which is highly impressive at 98%. They offer affordable SEO services for small- to medium-sized businesses.
According to a recent survey, still many businesses stay away from SEO services considering the expense factor. Go Mungo SEO claims to solve this issue with their affordable solutions, which suits their existing clients. This UK based SEO company offers customized meta tagging and back linking services that determine the rank of a business in different search engines. The high customer retention rate proves the company is successful in achieving its aim.
Alex Mungo, founder of Go Mungo SEO says, "As a young company looking to grow in this very competitive market place, we offer SEO solutions that suits all types of budgets. We also provide a very personable service that suits all our clients."
He adds that Go Mungo SEO has experienced professionals who provide result oriented back linking services. The technologically advanced services help users to get noticeable rankings in different search engines, including Google, in a very short space of time.
According to Steve Carr, a senior SEO analyst at Go Mungo SEO, "What is special about our organization is that no-body here compromises with the quality of our service. What others promise to do, we actually deliver. Our company has many satisfied clients that stay with us for the long haul, and we believe the number of clients will grow considerably in the future as a result of our ethos."
Faiza Seth from Casa Forma, a regular client of Go Mungo SEO, is extremely happy with their SEO services. Faiza says, "Go Mungo SEO has managed Casa Forma's SEO campaign and press releases since February 2010. This was included in the overall marketing mix as it was soon realised that the website was a great way of successfully reaching a wider audience to market Casa Forma's services in the luxury interior and architectural design sectors. Alex provides a high level of personalised service, and guides the whole SEO optimisation process personally."
Along with back linking and Meta tagging, the SEO company also offers keyword integration and content organization services for business owners. All these come in the same package and clients do not need to pay extra money to get these services.
About Go Mungo SEO: The company offers SEO services for the UK based and the international companies. They maintain a client retention rate of 98%, which proves their efficiency in this field.
Please visit http://www.gomungoseo.co.uk for more information.