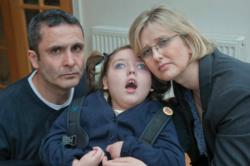 I want to know what lessons they've learnt, why they took no action and have him removed from practising
Bolton, UK (PRWEB UK) 16 April 2013
According to Asons Solicitors, the volume of medical negligence claims being filed are increasing, as members of the public are coming forward to fight for compensation for the unnecessary suffering they have faced because of inadequate medical care.
Fortunately, most cases of medical negligence don't result in any serious lasting damage with around 1 in 6 of all diagnosis being wrong, but going undetected (2). However in some more serious cases, such as this, Asons Solicitors comments on how it can change the lives of people entirely. Unfortunately this was the case for Mark and Diane Pierce, when their daughter Kate was left suffering with a range of illnesses all stemming from an alleged misdiagnosis of pneumococcal meningitis at the age of 9 months (1).
It is alleged by Kate's Parents, that Kate Pierce was left fighting an extensive list of health conditions including acquired cerebral palsy, severe epilepsy, chronic lung disease, pneumococcal meningitis and cysts on her brain, which left her cruelly brain damaged (1).
After displaying some worrying symptoms, Kate was taken to Wrexham Maelor Hospital by her parents, where it is advised that a doctor diagnosed Kate with a case of viral tonsillitis and was discharged from the hospital (1) According to Kate's parents, her condition quickly deteriorated and she was rushed back to the hospital the next day where she was finally given the correct diagnosis.
Mark, from Rossett in Wrexham, told news reporters for WalesOnline (1) how both himself and his wife had requested that the doctor gain a second opinion from a more senior doctor, after they questioned his initial diagnosis of her symptoms.
According to the interview with Kate's parents, they stated that the doctor made claims that he did seek the advice of another doctor on the ward, however this was soon after found to be a fabrication, and he had sought no such advice(1).
Mr Pierce stated in an article by Wales Online:
"They basically lied to us and destroyed our daughter, I don't want this happening to anyone else"
He continued to say "I want to know what lessons they've learnt, why they took no action and have him removed from practising".
This statement comes after it is alleged the health board made no apologies for the fatal blunder and they have been given no explanation or evidence of any precautions to stop this from happening again
"Kate went through an absolute nightmare because of that person sending her home. They don't learn lessons and he's still practising".
Asons Executive Suzanne Yates commented on this fatal blunder expressing the following
"This story is a prime example the horrendous effects that substandard care can cause. Because of the alleged actions of this doctor, a poor girl was stripped of her quality of her life and her parents have been left suffering with the aftermath of not only having a severely disabled child, but also left mourning her death. Doctors that make blunders like this should be punished to ensure that incidents like this stop completely. We should be able to rely and trust our health service, not be afraid of it".
According to Suzanne, if it wasn't for the unfortunate death of Kate Pierce, her family wouldn't have been left unsupported. She continued to say that if Mark and Diane sought the support of the medical negligence solicitor, such as Asons, they may have been eligible to claim millions in compensation to subsidise the increased cost of living for caring for Kate and her disabilities.
References
(1) http://www.walesonline.co.uk/news/health-news/2013/04/07/parents-of-child-misdiagnosed-with-tonsillitis-tell-their-moving-story-after-her-death-91466-33127446/
(2) http://www.telegraph.co.uk/health/healthnews/6216559/One-in-six-NHS-patients-misdiagnosed.html
(3) Court Case Number S20130077

About Asons Solicitors:
Asons Solicitors is a Bolton-based law practice that specialises in personal injury and industrial disease claims. Founded by brothers Imran Akram and Kamran Akram, Asons Solicitors has developed to become a young and dynamic law firm that delivers practical solutions to clients in times of difficulty. Their continued focus on their staff has seen them awarded with the Investors in People "Gold Award"; which is reflected in the professional and personable approach they take in working with clients. They strive to grow and to develop, and their supportiveness and attention to detail ensures that their clients use them time and again.
For further information contact:
Email: info(at)asons(dot)co(dot)uk
Website: http://www.asons.co.uk