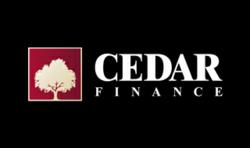 Nicosia, Cyprus (PRWEB) April 10, 2013
Brokers who wish to introduce their clients to the profitable world of binary options trading can do so through Cedar Finance's Introducing Brokers program. Cedar Finance realizes that introducing established brokers and their clients to this exciting form of trading is a win-win situation for all parties, and they offer an excellent benefits program for their introducing brokers.
A volume-based compensation plan. Through Cedar Finance, introducing brokers receive compensation for every trade their clients make. This allows the brokers to create a sustainable revenue stream with minimal investment on the brokers' part. Cedar Finance handles the expense of developing the software, maintaining the back-office systems, and keeping the 24-hour dealing room up and running. Introducing brokers can move their entire business to Cedar Finance easily and quickly improve their overall compensation schedule.
On time, monthly payments in full. Cedar Finance realizes that introducing brokers comprise a large portion of their overall trading volume. As such, they dedicate a large portion of their resources to ensuring that introducing brokers receive their monthly payments on time and in full each and every month.
Take advantage of the referral program or build your own brand. Cedar Finance offers introducing brokers two ways to make money. The first way is through Cedar Finance's generous referral program. A broker can make money by simply referring new traders to the platform. The second way is through Cedar Finance's white label program. Using the white label program, brokers can label Cedar Finance's award-winning trading platform with their own company brand.
Easy-to-use online reporting and account monitoring. With Cedar Finance, brokers always know exactly how much compensation they can expect to receive each month. Using Cedar Finance's online reporting system, introducing brokers can track their clients' trading activity and profits. This ability to monitor trading activity will also help brokers to serve their clients better.
Easy funding options. Both brokers and their clients do not want to waste weeks waiting for funds to be processed. At Cedar Finance, this is never a problem. Cedar Finance offers clients and brokers numerous ways to fund their accounts such as wire transfer, funding via credit card, as well as other major forms of secure payment methods. Cedar Finance also offers multiple ways for clients and brokers to receive payouts from their accounts.
Free comprehensive training. Cedar Finance wants their introducing brokers to succeed. The more clients the brokers introduce to Cedar Finance, the better it is for all parties involved. Those who decide to become an introducing broker for Cedar Finance will have access to the company's great training program. In this program, brokers will learn profitable binary options trading strategies to offer to their clients. In addition to broker training programs, Cedar Finance offers new ways for introducing brokers to provide their clients with training. This includes the ability to offer live online training.
Great customer service from an award-winning company. Cedar Finance is there to assist their introducing brokers and answer any questions they might have. Cedar Finance has built their reputation around the globe by being there for their customers. With the 24-hour support service, a broker will never have to wait until the next day to have their or their client's question answered. From the individual broker to the established brokerage firms, Cedar Finance is there to help them become a success.
By becoming an introducing broker for Cedar Finance a broker expands the services they offer to clients, firms and other individual brokers. The program gives an opportunity to trade binary options using Cedar Finance's award-winning platform and gain substantial advantage over the competition. Anyone interested can contact Cedar Finance to learn more about this program.
ABOUT CEDAR FINANCE
Cedar Finance is the most professional and objective platform for trading Digital Options online, offering clients an easy and 100% secure way to trade all major assets - forex, commodities, indices, and stocks. As a pro-consumer institution it provides personal account managers, background information about the markets, a guided tour, seminars, one-on-one training, live chat, and 24/7 phone and technical support. Since the beginning, Cedar Finance has built a loyal base of clients by drawing upon its expertise in providing intuitive software and exceptional services for trading Digital Options.