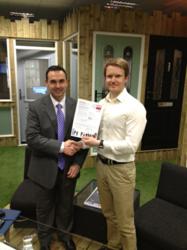 Solidor's continued commitment to the show comes as no surprise. Managing Director, Gareth Mobley, signed up to this year's event a full 18 months in advance
(PRWEB UK) 11 April 2013
News of next year's FIT Show has proved music to the ears of composite door specialists Solidor who instantly extended their unequivocal backing for the glass and glazing industry's newest trade show by being the first company to reserve exhibition space for 2014.
Since last week's announcement confirming that The FIT Show would again take place in 2014 at The International Centre, Telford, followed by a further outing in 2016, reaction within the industry has been universally positive.
But it was Solidor that was first to officially get FIT after shaking hands with FIT Show Sales Director, Jason Wootton. The company has re-signed for the same stand the company occupies at the launch event.
Solidor's continued commitment to the show comes as no surprise. Managing Director, Gareth Mobley, signed up to this year's event a full 18 months in advance and the firm is one of the key sponsors of the Master Fitter Challenge where they will supply the composite door sets used by each of the teams competing.
They will also be sponsoring the Hope 66 Fun Casino, held at The FIT Show Gala Dinner, which aims to raise vital funds for GM Fundraising, a charity that assists terminally ill children and their families.
Formed less than a decade ago, Solidor is widely recognised as being the developer of one of the finest composite doors in the UK. Solidor's composite doors come in a variety of different styles, glazing options and eye-catching finishes and are created using solid timber as opposed to a conventional foam-filling.
Visitors to this year's FIT Show won't be able to miss Solidor as their stand is located at the main entrance of Hall 1, stand 01-100.
The 2013 FIT Show is being held at The International Centre Telford from 16th to 18th April 2013. The 2014 FIT Show will take place at The International Centre Telford on 10th, 11th, 12th June 2014. More information on the 2013 event can be found at http://www.fitshow.co.uk.