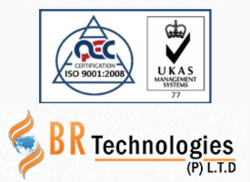 One Step Forward to Success.
Kolkata (PRWEB) April 16, 2013
Another feather has been added and one more mile stone has been touched as SBR Technologies Pvt Ltd, one of the leading players in internet marketing and web service has recently been awarded with ISO 9001: 2008 certification. Headquartered in Kolkata, India the company has been catering to the internet marketing service and web application requirements of its clients with utmost precision.
Boasting an ever evolving list of happy customers in North America, United Kingdom, Europe, and India, SBR Technologies Pvt Ltd has stood apart as one of the names to rely on for crafting a staggering online portfolio.
Biswajit Singh, the CEO of SBR Technologies has received this state of the art and prestigious certification at a recent ceremony. "We are pleased to receive the prestigious ISO 9001:2008 certification. It is a testament of the fact that the quality of our services and management system are in place," – says, Mr. Singh upon receiving the certification.
According to the marketing head of SBR Technologies, the company has witnessed remarkable growth in a rather short span of time, increasing its team size to more than 100 in a minimal time-frame. "Right from our inception we have ensured distinction in internet marketing and other web services rendered. We are happy to have attained the recognition and we will continue to march ahead for operational excellence,"- says the marketing head.
The journey was indeed long, but rich and based on the sheer concept of 'progress with partnership'; the company has been able to establish strategic technology and business partnerships with several small to medium scale enterprises. Based on the cornerstones of transparency, credibility, quality and honesty, the internet marketing company strives ahead in empowering the same quality along their global partners. ISO 9001: 2008 Certification has further added to the long line of honors which the company has already achieved.
About SBR Technologies
Persuasive, intelligent and effective Internet marketing and web services are certainly the cornerstones for a staggering online presence and SBR Technologies Pvt Ltd, values this fact.
We are the boutique Google certified and ISO 9001:2008certified internet marketing company that specializes in digital marketing and other supporting services with a 360 degree approach
We stand tall as your trusted digital marketing and web service provider, offering all forms of Web Marketing Services to tap the potential source of online visitors. From building a website to generating business leads we take care of everything ensuring you a growing return of investment.