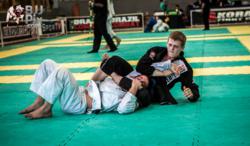 "The Delbrugge brothers are role models for the students and the kids aspire to be like them."

- Julius Park, Owner
(PRWEB) April 09, 2013
This weekend, kids who train at Crazy 88 Brazilian Jiu-Jitsu in Elkridge, MD, had the chance to learn techniques from professional mixed martial arts fighter Jon Delbrugge and his brother, also a BJJ competitor and coach, Devon Delbrugge.
"The Delbrugge brothers are each very skilled at what they do. Not only that, they are role models for the students and the kids aspire to be like them," said Julius Park, who founded Crazy 88 in 2005.
Jon Delbrugge is a professional mixed martial arts fighter who specializes in Brazilian Jiu-Jitsu and Muay Thai Kickboxing and has been training at Crazy 88 for several years. A purple belt in BJJ, Jon competed for four years at the toughest Brazilian Jiu-Jitsu tournaments in the world before stepping into the cage for his first MMA fight. Now undefeated after two pro fights, Jon is training for his third professional MMA fight in May.
Devon, 19, who was introduced to BJJ by his older brother, has been traveling the world competing in Brazilian Jiu-Jitsu and picking up gold medals at major international tournaments along the way. In the fall of 2012, Devon won double gold at blue belt at the No Gi World Championships in Long Beach, CA, and earlier in the year he placed third at the Brazilian Nationals, a prestigious tournament in the sport's homeland.
But while the Delbrugge brothers are both championship-winning machines, they are also dedicated coaches at their school and second home, Crazy 88. Experts at teaching both adults and kids in the martial arts, Jon and Devon understand how to translate the techniques that they use themselves to the experience-level of their audience.
"The instructors, they're very knowledgeable," said Greg, whose son is a member of the school's kids program. "They have competed, they have the real mat experience and they're excellent, excellent instructors and role models for the children."
During the Saturday seminar, the kids studied techniques from half guard, which is a BJJ position that offers many opportunities to attack. If your child is not yet a student but you'd like more information about the 30 day free trial for kids or adults BJJ, Muay Thai Kickboxing or Mixed Martial Arts, call 443-283-1450 or visit the website http://www.baltimoremixedmartialarts.com.