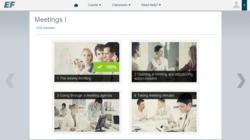 Efekta 13 combines years of R&D with practical learner insights to deliver truly sensational results
London, UK (PRWEB UK) 10 April 2013
EF Education First, the world leader in language training for business, government and the education sector announced today the details and immediate availability of EF Efekta 13, a major new release of its award winning online English school. The release looks set to further extend the pedagogical, technological and market leadership in the English language learning market enjoyed by the world's largest private education company.
Using 'big data' analysis of many millions of student data points taken over several years, the school takes online language learning to unprecedented new levels, exploiting the unique opportunities that the combination of cloud-services, modern tablets and mobile devices present. It also encompasses the latest insights into how web-based learning content can be deeply integrated into tailored learning paths, which is resulting in students learning faster than ever thought possible. The new developments within the school focus on four key areas: Pedagogy, Content, User Experience and Engagement.
Pedagogy
With around 2000 hours of content, millions of students and thousands of world-leading organizations using the cloud school over many years, EF had acquired a massive and unique bank of pedagogical data points which highlight just how individuals engage with online learning. Analysis of this 'big data', such as hours spent on different units, which activity types work best, and varying levels of engagement and progression, has allowed EF to gain a deep understanding of just how internet-based learning differs from traditional e-learning and face-to-face learning. For example, EF found that certain online content can be absorbed much faster than equivalent content taught through traditional methods, and corresponding learning-paths can therefore be tuned to exploit and deliver much faster learning rates. Efekta 13 is built on this analysis and insight, taking online learning to a whole new level. The result is an online school that dramatically streamlines learning paths, optimises content delivery and maximises progression rates. This, in turn, means that students can apply what they learn to the workplace earlier, and start to deliver business impact back into the organization in the fastest possible timescales.
Dr. Enio Ohmaye, Chief Technology and Experience Officer, EF commented: "At EF, we take the science of teaching very seriously; we are always looking for ways to make the learning process more effective and efficient through sound pedagogical principles. With Efekta 13 we have realized this aspiration unequivocally and we think that businesses will really notice the impact. "
Content
The content in Efekta 13 has also undergone a refresh. With nearly 50 years of experience in the language learning business, EF understands better than most the key elements to make learning content a success. First, it needs to be relevant; good learning content is content with which the learner can identify and empathise - the deeper the relevance, the tighter the learner is engaged. Second, it needs to be timely; it must feel fresh and current to keep students motivated to learn. Third, content that incorporates elements of humour, is more likely to be remembered. And fourth, the content needs to be intrinsic, meaning it has to be fully integrated and supportive to the learning curriculum, thematic and consistent, challenging and applicable at all learning levels, mixing constructed content scenarios with real-life ones.
Efekta 13 incorporates over 500 hours of new content based fully on the principles above. It is also focused largely on professional and business topics to be as closely connected to learners' everyday job roles as possible, allowing companies to gain even faster return on their training investment.
User-interface
The most instantly noticeable change in the Efekta 13 release is that the entire user interface (UI) and corresponding school navigation has been re-designed with an emphasis on simplicity and usability for the learner. The new-look homepage gives the learner an 'at-a-glance' view of their current progress within a unit and provides prompts as to what they should do next. A new school header and user profiles make for easier navigation around the school, and increased learner relevance. New activity templates make tasks more fun, simpler to understand and more engaging. Efekta 13 also sees the complete harmonization of the school UI across the iPad and PC promoting a seamless learning experience wherever and whenever the learner chooses to learn.
Engagement
Engaging and maintaining student motivation is the biggest challenge for any online school. EF fully recognizes this and is why Efekta 13 introduces a new version of EF's Motivation Engine, which was first introduced in 2012. This unique knowledge-engine continually reviews the progress that individual learners have made, and suggests the next steps that should be taken in order for them to achieve their goals. These intelligent recommendations take the form of dynamic and personalized home pages, automatic prompts and emails, all of which encourages progression and specific next activities.
Peter Burman, President at EF Corporate Language Learning Solutions, sums up: "As the thought-leader in the language education field, we are delighted to, once more, be leading the way for online language learning with our pioneering new school release. Efekta 13 combines years of R&D with practical learner insights to deliver truly sensational results - a cloud school that really captivates learners and propels progression rates astronomically".
-ends-
About EF Corporate Language Learning Solutions
EF Corporate Language Learning Solutions, an EF Education First company, is the world leader in corporate language training for multinational businesses and public sector organizations. Over 1,500 organizations and 15 million students worldwide have put their trust in us for a reason - we have proven time and again that our training solutions generate real results. With a worldwide network of offices in over 50 countries, executive language institutes in Cambridge and Boston, and the world's most advanced online, on-demand language school, EF provides the highest returns on language training investments. For more information on EF Corporate Language Learning Solutions please visit us at: http://www.ef.com/corporate