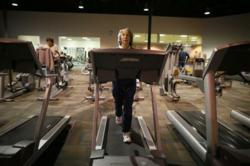 (PRWEB UK) 9 April 2013
It has recently been reported that it is becoming increasingly difficult to design fitness equipment and effective workouts for the aging population as people now have such a wide range of abilities. Some individuals in their 70's find simple physical tasks such as standing and walking challenging whereas others look forward to running their next marathon. Experts say that physical activity in later life is of importance and can prevent diseases such as osteoporosis and diabetes. It also facilitates flexibility, muscle mass and general physical functionality.
Gymkit UK, one of Europe's leading gym equipment suppliers, provides a catalogue of fitness equipment and cater for all fitness requirements. Howard Braband, the company founder and Managing Director said "Over the last 12 years we have supplied fitness equipment to Olympic medallists as well as those that wish to do some low impact exercise in the comfort of their own homes. With our variety of fitness equipment we can provide machinery that is suited to an individual's fitness levels as well as advice on what exercises could help them to achieve the desired results." Mr Braband founded the company after purchasing home use gym equipment and found it to be inadequate. Subsequently, he wanted to provide commercial gym equipment for home use at reasonable prices.
The most popular types of gym equipment sold by Gymkit UK include treadmills, rowing machines, cross trainers and exercise bikes. The company also sells items such as hand weights, yoga mats, Pilates equipment and any other specialist equipment required for exercise. Furthermore, as well as providing second hand gym equipment, Gymkit UK is now the sole UK distributer for Teeter inversion products. Teeter products are designed specifically for those with back problems and aid recovery by reversing the effects of gravity. As well as being the sole UK distributors for Teeter Inversion Tables, Gymkit UK are also the sole UK distributors for One Polar Climbing Rucksacks.
The majority of gym equipment sold by Gymkit UK is sourced from health clubs and gyms who may be looking to refurbish and who have owned equipment for a couple of years. Consequently, customers receive commercial gym equipment that is of high quality and that is built to withstand high usage. Nonetheless, fully qualified service engineers effusively test and clean all gym kit before it is dispatched to ensure that it is wholly working.
For all of your gym equipment needs please visit click here to visit the Gymkit UK website or call on 01733 205551. Alternatively, please visit their showrooms based in Whittlesey, Peterborough which are open Monday-Friday 9am-6pm.