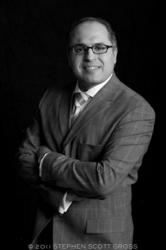 Our goal is to help our patients achieve their ideal beauty, vitality and health throughout their lifetime
New York, NY (PRWEB) April 10, 2013
Board-certified plastic surgeon Kevin Tehrani is featured in the April 2013 edition of NewBeauty Magazine, which is already on the newsstands since April 1, 2013.
Dr. Kevin Tehrani is a highly esteemed New York plastic surgeon renowned for his skillfulness in aesthetic plastic surgery. Dr. Tehrani is certified by the American Board of Plastic Surgery and is a fellow of the American College of Surgeons. He is also known as the founder and director of Aristocrat Plastic Surgery & MedAesthetics with offices in Manhattan and Great Neck, Long Island. He's been recently nominated and voted by his peers and colleagues to be one of the top 10 plastic surgeons in New York.
In the latest edition of NewBeauty, Tehrani summarizes the philosophy behind Aristocrat Plastic Surgery & MedAesthethics: "Our goal is to help our patients achieve their ideal beauty, vitality and health throughout their lifetime. Surgical enhancements made to my patient's physical form dramatically improve their self confidence, which is life changing."
After discussing about his appointment process, Tehrani also mentions the new MedAesthetics suite that was recently opened to the public. The 5,000 square feet suite will include more MedSpa services, including SmoothShapes XV cellulite treatments and CoolSculpting by Zeltiq, a non-invasive fat reduction tool.
Dr. Kevin Tehrani is also awarded a 'Beauty Expert 2013' status by NewBeauty. Since its launch in January 2005, NewBeauty has enabled an open and ongoing line of communication about cosmetic enhancements between consumers, manufacturers and medical professionals.
# # #
Kevin Tehrani
Board-Certified Plastic Surgeon
Fellow of the American College of Surgeons
560 Northern Blvd., Suite 109
Great Neck, NY 11021
516-498-9790