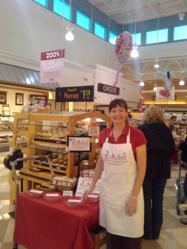 Pisgah Forest, NC (PRWEB) April 11, 2013
Ingles Markets, a western North Carolina based supermarket chain, is hosting monthly 'Taste of Local' events at their stores. At these events local vendors and farmers who supply Ingles offer samples of their products, information about their farms and companies and have an opportunity to connect with customers. Leah McGrath, Corporate Dietician for Ingles Markets, initiated these tasting opportunities in response to customers' requests to "buy local." Do More Bars, gluten free bars, produced in Pisgah Forest, NC and carried by Ingles Markets in their western North Carolina stores, is one of the products that can be sampled at the upcoming event in Fletcher, NC on 4/19, from 3:30 to 6:00 p.m. McGrath commented, "Do More Bars was one of the first gluten free products we offered in the bakery department at Ingles and these events help get the word out about this product. Local vendors need an opportunity to stand out, especially in large supermarkets where it can be challenging to get noticed next to major brands. Our customers love the 'Taste of Local' events and getting to meet vendors like Tammy Woods. The events have been so well received in western North Carolina that they are now being held in some of our Georgia and South Carolina Ingles locations as well." To find an Ingles location that carries Do More Bars, please visit DoMoreBars.com.
Do More Bars will remind you of those familiar rice cereal bars but are in fact top rated, healthy gourmet fruit & nut cereal bars that are all natural and gluten free. The bars come in a variety of flavors: Date Pecan, Pineapple Coconut, Raisin Peanut, Orange Cranberry Pecan, and Cherry Almond and are sold in 100 retail locations nationwide, including Ingles and Earth Fare supermarkets, as well as online at DoMoreBars.com.
Do More Bars was founded by single-mom Tammy Woods in 2008. The healthy snack bars were created out of a need in Woods' family for snacks that would satisfy her health-conscious mind and her daughter's taste buds. With a passion for cooking, Woods set out in the kitchen to create great tasting gluten free bars that were all natural and made with wholesome ingredients. The result was a light, crisp, chewy bar, made with whole grain, fruit & nuts – winning the approval of both mother and daughter. As a matter of fact, her daughter liked them so much she inspired Woods to start the business.