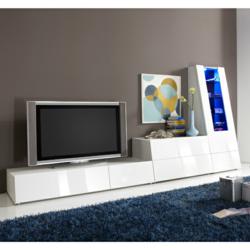 (PRWEB UK) 12 April 2013
FurnitureInFashion, one of the leading furniture companies in the UK, announced the launch of new contemporary Gala high gloss white entertainment set for living room. Gala white entertainment set offers integrated and modern solution for consolidating all entertainment equipments. Gala high gloss white entertainment set will allow homeowners to display and store quality accessories and entertainment products in style.
Gala high gloss white entertainment set comprises of ultra modern furniture entertainment collection from Germany. This entertainment modular set comprises of four items that can be adjusted as per the home requirement. This contemporary gloss white entertainment set comprises of one low board with one wide pull down door. The width of pull down door is 100 cm. It also has one small drawer with a width of 60 cm. In addition, this entertainment set has one double board with one pull down door and one drawer. The storage capacity of this entertainment set makes it very functional for a living or media room. Gala high gloss entertainment set offers two stunning display cabinets in cutting edge design. The two hanging display cabinets have two glass shelves and one wooden shelf behind doors. The cabinets have LED lighting and there is a remote control for the lighting. All items included in this set have high gloss white finish and the wall cabinet doors in this set have smoked glass fronts.
The Managing Director and CEO of FurnitureInFashion said, "FurnitureInFashion continues to increase in popularity. In order to meet the overwhelming demand for new entertainment furniture, FurnitureInFashion is committed to make significant investment in the entertainment furniture series to ensure that the future remains bright. With the launch of Gala high gloss white entertainment, FurnitureInFashion has added further depth to its entertainment furniture ranges."
Gala entertainment furniture set is an excellent solution for living room requirements. Some of the best quality materials have been used in the manufacturing of this range. It is available at affordable price and is a space saving solution for a living or media room. Gala entertainment set has enormous storage capacity. Homeowners can store CDs, DVDs, remote controls, gadgets, books, magazines and several other equipments in the hanging cabinets of this set. The two display cabinets with width of 47 cm , depth of 15-36 cm and height of 99 cm offer not only functionality but immense style for a living room. The low board of 160 cm width, 55 cm depth and 29 cm height offers a great space to display vases and other decorating items. This space can also be used to display books. The double board of 100 cm width, 55 cm diameter and 54 cm height offers great storage space with two drawers. Its top can be used to place DVD or other multimedia players.
"FurnitureInFashion is committed to offer cutting edge designs and functionality in all furniture categories. Entertainment furniture by FurnitureInFashion is becoming popular for its functionality and affordability. Gala high gloss white entertainment set is available for sale at the showroom of FurnitureInFashion in Bolton and at the company's website," said the MD of FurnitureInFashion.
Customers can check the catalogue of entertainment furniture at the website of the company. FurnitureInFashion offers various designs, styles, colours, finishes and prices in entertainment furniture.
To have a look at this new Gala high gloss white entertainment set and to place a pre-stock order, please visit the company website today at http://www.furnitureinfashion.net. The range of entertainment furniture solutions at the website is huge, delivery is fast, savings are massive and the quality is guaranteed.
About FurnitureInFashion
FurnitureInFashion is a UK based online retail business. It supplies furniture items from its German based warehouse and has a showroom in Bolton, UK. The company provides everything from umbrella stand, wall art and room dividers to bedroom, bar stools and computer tables. FurnitureInFashion offers excellent free delivery within UK and has a fantastic customer service as well. For further information and details about the sale, please visit http://www.furnitureinfashion.net.