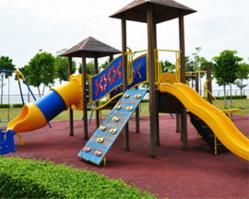 Loose or resin bound rubber chippings protect kids from falls in the playground
(PRWEB UK) 10 April 2013
Now the nights are lighter and the weather is getting warmer the kids will want to play outdoors. If you have a play area in your garden then rubber chippings from Decorative Aggregates (a Derbyshire Aggregates website) will make the ideal safety surface. Available in 6 colours - Black, Blue, Brown, Green, Plum & Terracotta - this 100% recycled rubber product is eco friendly and looks great whether you just use a single colour or mix two or more. The new colouring process using polyurethane resin gives a much brighter deeper colour than previous water based colourants. All colours are available in 500kg bulk bags or sealed 20kg bags.
Children are forever falling whilst playing and rubber chippings spread around the playground will reduce the tears giving parents that extra peace of mind. The depth of the playground rubber depends on the possible height from which the children could fall. Recommended depths for height are, 50mm deep (height up to 1.4m), 100mm deep (height up to 1.9m) and 200mm deep (height over 1.9m).
With a weed membrane laid first it becomes a low maintenance option when choosing a safety surface, and being made of rubber it won't absorb water, won't freeze and will dry out quickly. Not only are Derbyshire Aggregates proud to announce this new rubber product aimed at the consumer market, but also they have a new rubber surface product aimed at the resin bound trade.
Rubber shred chippings have been designed to be bound in resin giving a smoother surface when compared to loose rubber chippings. This rubber is also available in Black, Blue, Brown, Green, Plum & Terracotta. It comes in 10kg bags allowing for any combination to be mixed if you want a coloured rubber safety surface that's unique.
A long lasting seamless finish achieved can be achieved if the rubber shred is resin bound. It allows for patterns, motifs and shapes within a floor design utilising the 6 colours available. It's not displaced like loose mulches and wears well. Rubber shred has two environmental credentials. One, it's made from 100% recycled rubber and two it's SUDS compliant, meaning it's permeable, therefore allowing the play surface to dry out fast after any rain.
Martin Poulter the Managing Director of Derbyshire Aggregates said "We listened to what both our consumers and trades people wanted in regards to play area rubber safety surfaces and this new range has been very well received".
Both rubber shred and rubber chippings are available now for immediate despatch.