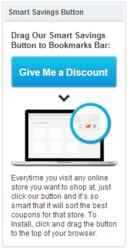 At HelloCoin we thought a lot how we could make a process of getting online discounts effortless for the people and having a bookmark app on your browser is the best way which gives you a total ease of mind and you are just a click away from best coupons.
(PRWEB) April 10, 2013
The tool, called "Smart Savings Button" – available at http://www.hellocoin.com – installs directly to the web browser and gives an easy one-click access to coupons, discounts and promo codes available for any online store.
It just simply knows in which online store shopper is currently at, so when the button is clicked, it instantly presents with the top online coupons to get best savings at that particular store. No more manual searching for coupons and promotions, install the Smart Savings Button and the latest and great coupons will only ever be one easy click away.
The tool is compatible with all browsers which support bookmarks, including Chrome, FireFox, Safari and Internet Explorer.
Installing the tool is easy and takes just a few seconds:
Simply visit HelloCoin and locate the "Smart Savings Button" section in the sidebar (see image to the right), then drag the large blue "Give Me a Discount" button up to bookmarks bar to successfully install it.
Using it is even easier:
While shopping online, simply click the "Give Me a Discount" button which is located in bookmarks bar and it will instantly present a list of top coupons available for that store.
There is no need to search in Google, or to visit coupon websites and search manually. This tool gives the ability to save while shopping, without even having to leave the online store page.
The tool currently works for the 120 biggest American and International online stores, including top retailers such as Amazon, Sears, Macys, Kohls, Target and Old Navy, with more stores being added regularly.
All of the best discounts for the top online retailers are now just one easy click away.
For those who prefer to manually search or browse through the entire catalogue of coupons to see exactly what's available, HelloCoin.com has it covered as well. With their easy to use instant search facility people are able to locate the stores and discounts in an eye blink.
Online shoppers who are more in a discovery mode and just want to go through beloved stores and see what discounts are currently available, can visit "HelloCoin Search Page" to quickly find thousands of online coupons.
Access HelloCoin Search Page which is available at: http://www.hellocoin.com/search
HelloCoin is paving the way with intuitive tools and features to help its users make saving money a natural and effortless part of their online shopping experience. Join the Newsletter at HelloCoin.com to be kept up-to-date on the latest HelloCoin updates.