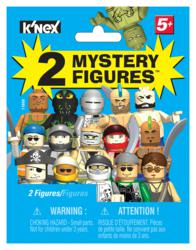 Hatfield, PA (PRWEB) April 09, 2013
K'NEX, the US construction toy company focused on Building Worlds Kids Love™, is pleased to introduce its first series of 2 K'NEXmen Mystery Figures. The new K'NEXmen figures feature jointed elbows and knees, and swivel waists and necks.
Recent winner of the 2013 Tillywig Best Creative Fun Award, the K'NEXmen Mystery Figure packs feature 16 different figures in this first series. Each set includes not one, but two, cool K'NEXmen figures. Young building fans will love collecting and building the figures across many themes including pirates, astronauts, pilots, race car drivers, zombies and more. Some figures are more elusive than others, so you never know who you might get! Compatible with all leading building sets. Suggested retail price $2.99. Ages 5+. Available now.
The award-winning 2 K'NEXmen building sets are available on knex.com and at toy retailers nationwide.
About K'NEX Brands
Founded in 1992, K'NEX Brands, the world's most innovative construction toy company, was established to make and sell what has become one of the world's leading integrated construction systems for children and is America's STEM building solution. Winner of over 250 international awards and recognitions, K'NEX, America's building toy company, is focused on Building Worlds Kids Love and encourages youngsters to "imagine, build and play." From the living room to the classroom, K'NEX has building toys specially designed for every age group and skill level. The K'NEX family of brands includes K'NEX Building Sets, K'NEX Thrill Rides, K'NEX Education, Lincoln Logs®, Tinkertoy®, NASCAR®, Angry Birds™, Mario Kart Wii™, Mario Kart 7™, Super Mario™, PacMan™ and more. Since 1992, The Rodon Group, a subsidiary of K'NEX Brands, L.P., has manufactured over 31 billion parts for the K'NEX building toy system. Join us as we help build the leaders of tomorrow. For more information, please visit http://www.knex.com or http://www.rodongroup.com.