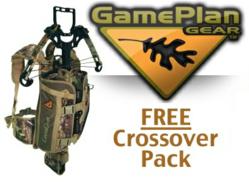 Free crossbow pack or carbon bolts with purchase of TenPoint crossbows.
Nappanee, IN (PRWEB) April 09, 2013
Indiana's turkey hunting season begins April 24th! Borkholder Archery is offering special deals on crossbows through the month of April and also hosting a Spring Open House.
Borkholder Archery, always the best source for crossbow shopping, is offering special packages on TenPoint Crossbows.
Until May 1st, all higher end TenPoint crossbows will come with a free Crossbow pack. This $99 pack makes it easy to carry a crossbow, a gun, or even a regular bow. The crossbow pack is for use with tree stands or turkey hunting on the ground. Zippered pockets make it easy to organize smaller items. The following crossbows qualify for this deal: the Carbon Xtra CLS, the Stealth SS , the Tactical XLT, the Carbon Elite XLT, the Carbon Fusion CLS, and the Vapor. These high-end crossbows always include three TenPoint Pro Elite carbon fiber bolts (arrows). (Note: Although the term arrow may be used, bolt is preferred when referring to crossbows.)
Also until May 1st, the less expensive TenPoint crossbows will come with six free carbon fiber bolts. There are two crossbows in this category: the Titan Xtreme and the Turbo XLT II. Borkholder Archery is happy to offer the 6-pack carbon fiber arrows to complement the less convenient aluminum arrows included with the lower-end bows.
All TenPoint crossbows come with the patented ACUdraw or ACUdraw 50 cocking mechanism. Each crossbow also comes with a three-arrow quiver and a scope. Scopes vary between crossbows styles. Lower end crossbows come with a 3-pack of TenPoint aluminum bolts and the higher end crossbows come with 6-pack Pro V22 Carbon bolts.
Borkholder Archery's Spring Open House on April 13th provides an excellent opportunity to shop for the crossbows mentioned above. In addition turkey hunting gear will be on sale all day, with a week and a half until opening day of turkey hunting season. There will be a turkey call seminar at 12 noon. The 3D Video Range will be open all day without admission charge. Hours for the spring Open House will be 9am to 2pm. The store is located between Nappanee and Milford just south of US 6 at 72945 County Road 17, Milford, IN.
Borkholder Archery, in addition to selling products, offers archery coaching, crossbow repair and tuning, and archery league hosting. Coaches are willing to train both children and adults. Crossbow repair and service is available both for local people and for hunters across the nation who ship their bows to Borkholder Archery for quality tuning or re-stringing. Borkholder Archery hosts winter archery leagues in their 12-lane shooting range with natural lighting. To join a league or inquire about bow repairs call (574) 773-0306.