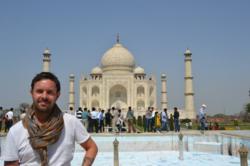 Paul said; I took the time to look at loads of different opportunities. I wanted to find a business that enabled me to put my family priorities first and yet still give me the chance to earn a decent income. This has given me everything I could ask for.
Newcastle-upon-Tyne (PRWEB UK) 12 April 2013
Paul Wakefield known for being a successful Marketing Mentor & Consultant has now joined the fastest growing online business to-date called The UK Success Team.
Since 2009 Paul has been written about in the book called 'The Laptop Millionaire', her has trained over 3,000 people from 5 different countries via webinars, seminars and workshops. In March 2013 Paul was listed as a Top 100 Marketer to follow on Twitter, Paul is also a recognised SageUK Business Expert and has recently been rewarded as the Northumberland StartUp Britain Business mentor Champion too.
In 2008 Paul took time to reflect on what he really wanted from life and how he could use his skills and experience to help others.
Paul made the decision to move on from a traditional corporate life and build his own business with the control, flexibility and lifestyle benefits that are really important to him. Paul had enough of intense commuting and exhausting business travel and was no longer prepared to make personal family sacrifices.
Paul is now committed to helping consumers & businesses, which want to find more personal freedom, lifestyle flexibility and he supports them to achieve their goals and aspirations.
Paul says; "I'm thrilled with the results and I'm now working with some truly successful entrepreneurs earning very significant incomes."
Paul soon learnt what works and stopped wasting his time and money on things that don't work. Paul said; "This is where most businesses fail because they can't learn fast enough. They run out of money before they figure out what works for them. Don't let this happen to you, because as soon as you get it right, you will be enjoying your time and money the way you want to."
What has driven Paul to this point is that he wants to be able to exercise flexibility, personal control and to spend time with his loved ones, because perhaps like you, Paul feels he has sacrificed these things in earlier years in order to get to this point in his life.
Paul is an expert in creating and developing businesses, he regularly helps those who have shown an interest in starting a business and enjoying the freedom that this can bring you.
Paul says; "I have been able to apply many of the sales and marketing tactics that I have learned over the years and implement them into my own Offline & Online Businesses. Within this my success has grown rapidly and so has the success of my clients too".
About The UK Success Team
The website is the introduction to the Success Team which offers a range of online and offline training tools, software and systems to assist others to create an online and offline business using the medium of Websites, Blogs, Video, Social Media and Google suite to build web presence (brand) and market their businesses efficiently.